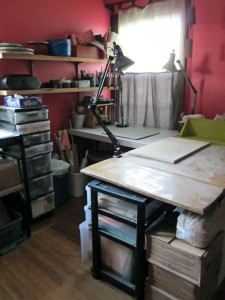 PART ONE: The Set-Up
Legions of artists fantasize about The Perfect Studio. Whatever the particular siting, configuration and appointments, it comes down to it being a vortex of personal creative energy where the conduits of genius become pure and we are blissful.
I've walked around a few incredible art-making habitats, many with zen views, which gave my artist's soul the same frissons as Disneyland's Peter Pan's Flight did for me at age 6.
After the thrills, though, come the tidal waves of malicious envy followed by the dirty backwash of self-admonition: "A lot of artists don't have any studio at all!" The Voice nags. So I go clean and rearrange one more time, dutifully attempting to bloom where I'm planted.
Sometime late last year I got a case of INeedABetterStudio-itis that was not induced by envy or guilt, but by a strong re-conceptualization of how I work best. I noticed things go better for me in my creative space when:
1. It has an open feeling with largish work tables and good task lighting.
2. It has dedicated places for tools, supplies, and other necessaries and they are clearly labeled.
3. I have separate areas for wet clay forming, bone dry and bisque work, and for decorating and photographing work.
4. Deep storage and side activity supplies are not visible.
5. It is inviting and pretty easy to keep clean.
6. There's a private feeling, separate from my household.
Those were the qualities that I kept seeking in the yellow space, a large back bedroom located off the laundry/pantry pictured below. But, I was asking too much of it. I wanted it to be an active studio as well as a major seasonal storage area, a photography studio, an Etsy Shop inventory and shipping area, a place to stage and prep my outside-the-studio teaching and volunteer projects, an art reference file cabinet and a mini meditation hall. No wonder I had no lasting success in wrassling it into a dream studio!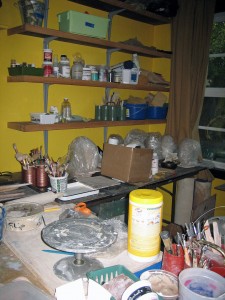 It was clear, though, that I would not be moving off-site, out in the yard or be converting the living room. What, oh what to do besides more Sisyphean tidying? Eventually it occurred to me I could switch out two rooms by moving the active studio around the corner and down the hall to the off-the-beaten-path red room, taking only the necessaries with me and leaving the other functions behind to be joined by the exercise equipment.
And that is what I did. See the just-moving-in shot at the top of the post.
A few weeks later, I performed a dedication ceremony thanking "the divine cockeyed Genius assigned to my case", by clearing and blessing the newly-born space.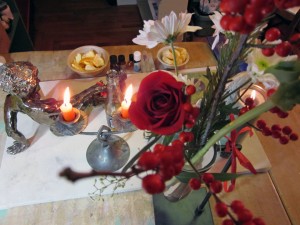 PART TWO: The Never-ending Conclusion
As I continue to pay attention to what I need in my studio (to make it vortex of personal creative energy by opening the purest conduits to genius and thereby fostering my ultimate bliss,) I make adjustments.
I stand when I work, so I propped the tables up on bedrisers and topped them with HardieBacker board, a smooth and durable work surface. As a bonus, the higher tables make the storage beneath them accessible without groveling.
I can reach everything on all the shelves, no footstool required, and I am able to keep stuff nearest to its likely use.
I swung the decorating table 90 degrees to create more elbow room, found sturdy, stackable clementine boxes to hold everything on the shelves and labeled them, got rid of the odd-shaped wareboards, threw out the broken and moldy and gave away anything not often used.
Albert Einstein, an earthly genius, said, "Things should be made as simple as possible, but not any simpler." In the spirit of simplistic balance, I am scrutinizing my remaining tool collection and questioning why I have 8 cut-off wires, 16 needle tools, 23 ribs, dozens of similar wooden modeling tools, a deep drawer full of sponges and a whopping 212 brushes – I just counted them!
I think the bulk of these need to go. They are going.
In practice, I only use about 20 favorites from all categories, which I keep handy on my right side along with my water tub, spray bottle, sponges, hand towel, brushes, slip container, and a cache of beloved sticks, straightedges and dowels. It's an artist's version of a mise en place, which works really well and I have begun to hone.
I now drive a custom cockpit of ceramic creation. Here's a non-action shot (because an action shot would be less clear.)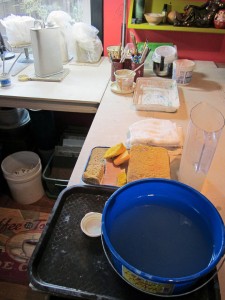 My entire studio is becoming a pretty decent personal version of Japanese workplace organization called 5S Methodology
1. Sorting (Seiri)
2. Setting in order (Seiton)
3. Shining (cleaning) (Seiso)
4. Standardizing (Seiketsu)
5. Sustaining the discipline (Shitsuke)
There are three other Ss that accompany this methodology: Safety, Security, Satisfaction. While they mean something different for factories and schools, I see them more as positive emotive qualities, emanating from the newly organized and clean space, helping me feel professional by fostering my sense of privacy, comfortable confidence and pleasure in my craft.
It's a practice, this studio functionality perfection biz, but, I swear, now that I don't need to kick a fire lane in to the work area every time I enter, only to stand there both fog-brained and hyper-distracted – essentially pre-defeated by the disarray – I'm making better art and having a way better time at it too.