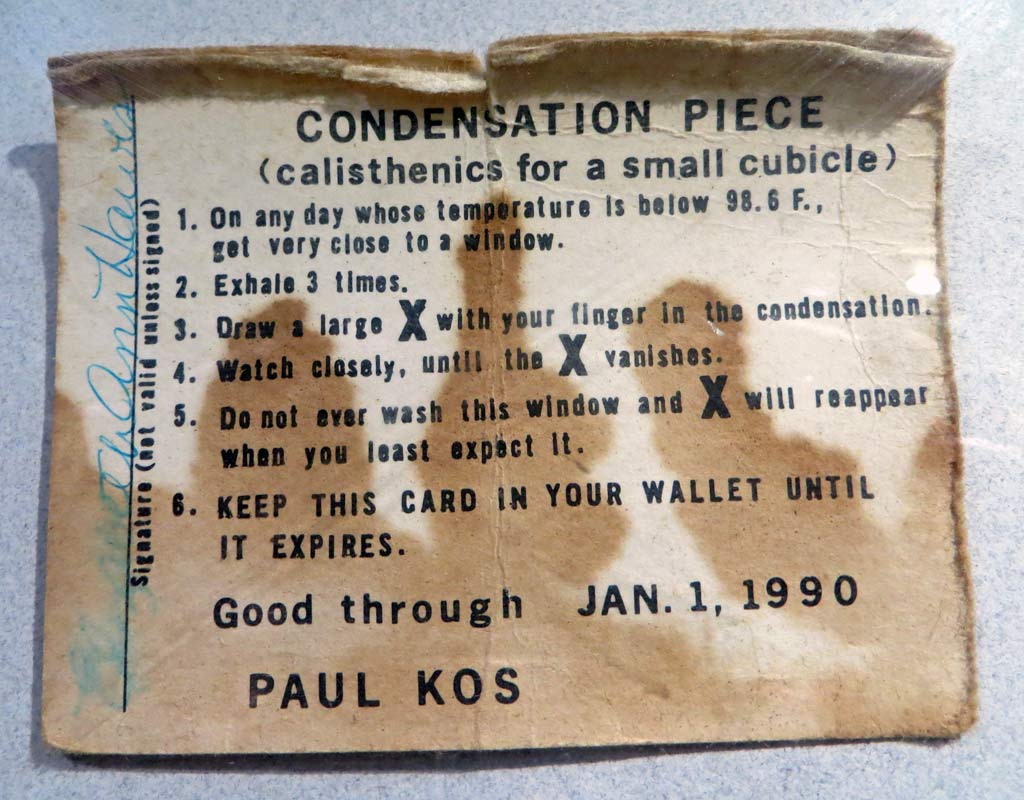 Once upon a time a college senior walked into her campus art museum to see some Conceptual Art in the brash new forms of video installation, sound and interactivity. I'm not sure if she was wowed or not, because she couldn't tell you now one itty bitty thing she saw. But, on her way out, she offhandedly picked up a small freebie art card by one of the artists and thought it would be fun to play along with what it suggested. This is the story of what happened after that.
 And, yes, I was that college senior and I can personally relate the decades-long history of this little conceptual "Condensation Piece" and me. 
I took it home and made a large X as instructed on the inside of the window of my family's front door. (And, yeah, I had moved back in with my parents. 'Nother story.) I validated it by signing in my favorite ballpoint pen color, turquoise, with which I took all my lecture notes. And I tucked that card in my wallet. I'm guessing that it joined just a few other things: a CA Driver's License, a Student Body Card and a Chevron Gas Card that my dad had co-signed for. With little to no money in there, it tickled me to "hang" some esoteric art instead.
I graduated in December, 1971 and moved out on my own in the late Spring of '72,  but ritually repeated the making of that X in every place I lived from then on, mostly on bathroom mirrors. I toted them all up just now and it comes to a total of a dozen places over the 19 years that I carried the piece with me.
I'm rather amazed that in all that time I never completely lost my wallet or purse. Misplaced or forgot it somewhere, of course, especially in the mid-70s, a particularly inattentive period when I moved, changed jobs, boyfriends and whole circles of pals roughly every 18 months.
The top edge delaminated and splayed because it was never a good fit in either direction for standard-sized slots in wallets.  You can also see where it got folded vertically. And while I wasn't necessarily concealing it, I don't remember ever discussing or showing the card to anyone. And I had no idea who Paul Kos was, either. I did learn at some point that kos is a Farsi word for pussy, and wondered if Paul knew that. 
Somewhere along the way it got wet and stained, and of course I don't recall how, but it seems to add a touch of mysterious gravitas to it as a visual object now.
I never did see the X reappear anywhere I had put it, but I still believed in that possibility because it was part of the long and faithful practice of carrying the card with me.  Yet when you move out on each X you've made  (Ha! Great unintended pun!),  you know you won't be there to see it even if it did reappear. "Never expecting"  was the right level of  "least expecting."   The continued carrying and random acts of  X-ing became the point, really.
On or about January 1, 1990 I took it out of my wallet, proud of my interactive art-fostering success. I don't know how many were originally made, but I still felt pretty sure I had the only one that had survived the whole journey as proscribed. I wondered what the heck should happen to an expired Conceptual Art Sculpture. Make one last "Forever X" somewhere and then ritually burn the instructions? Find Paul Kos, shamelessly bask in his astonished approval, and then magnanimously offer the card back? Make it a centerpiece in my own mixed media collage art?
It seemed pretty clear that any extension of the Condensation Piece's concept from here on out was entirely on me.  So…I framed it, just like a diploma, on grayish mat board in a thick-sided grayed wooden shadowbox: its own small cubicle of sorts. 
Curiously, I've only moved once since then and that was back in 1992, but this odd intimate little boxed piece has hung in nearly every room of this house over the past 28 years. And whenever it's moved, a new X is created somewhere on a nearby glass surface. Lately I've taken to just directly breathing on it and making a big X right on the glass front of its frame. Economy of motion and all that. I still have never seen an X reappear, but now I'm thinking of chemically etching the outline of one on that glass front and being done with it.
–Liz Crain, who has relied on the ideas of natural phenomena and human mysticism a time or two herself. And who often quotes Bill Gates when discussing inventions and creativity, "The idea is not the hard part."
P.S.  I have learned that back in the day the de Saisset Museum at Santa Clara University was an early and enthusiastic supporter of Bay Area Conceptual Art and Artists. The exhibit I attended there in the Spring of 1971, one of the first in the region, was titled "Fish, Fox, Kos" and featured some of the earliest conceptual and performance pieces of Allan Fish, Terry Fox and Paul Kos. I think the reason I don't recall what I saw there is twofold: 1. Because I just flat didn't understand that what I was seeing was not especially the point; the concept and experience of it were. And, 2. That the truer point for me was utterly personal and lay way in the future.