Biography: Under Construction!
By way of nearly every other art medium, I find myself a ________. It lets me include every arty thing I know about line, color, form, surface, and meaning, often in surprising ways which I can barely control and, perversely, I rather like that!
I have learned ceramic and _________ techniques and processes from and been supported by dozens of kind and talented people. The art community is curious and inclusive. I both took classes and taught art, both of which furthered my understanding. I taught elementary school children through the Arts Council of Santa Cruz's SPECTRA Program and also was a longtime volunteer teaching assistant in the Ceramics Department at Cabrillo College, Aptos, CA. I had a hand in the creation of several pieces of public art installed on campus, most notably a well-loved free-form mosaic bench in daily use.
Over the decades I see that in ceramics I prefer to create vessels, the containers of potentially everything, whether functional or metaphorical. Lately my clay vessels are created in response to and in dialogue with other media: found objects, re-invented ceramics, fabric and fiber. The richest vein lies with yarn or twine which I have knit, sewn, shaped and dipped in porcelain slip. When fired, the clay replaces the fiber, leaving a detailed porcelain version of the stitched form.
After a couple of decades, I have also returned to 2D works, whether simply painting or in a mixed media format. I look forward to what comes up for me in this new/old endeavor.
My BS in Sociology has led me to be a student of human nature, visual culture and the creative process. I went on (a bit backward, perhaps) to obtain both an AA in Studio Art and one in Art History from Cabrillo Community College and I also hold a well-earned Certificate in Fine Art from UC Santa Cruz.
Artist Statements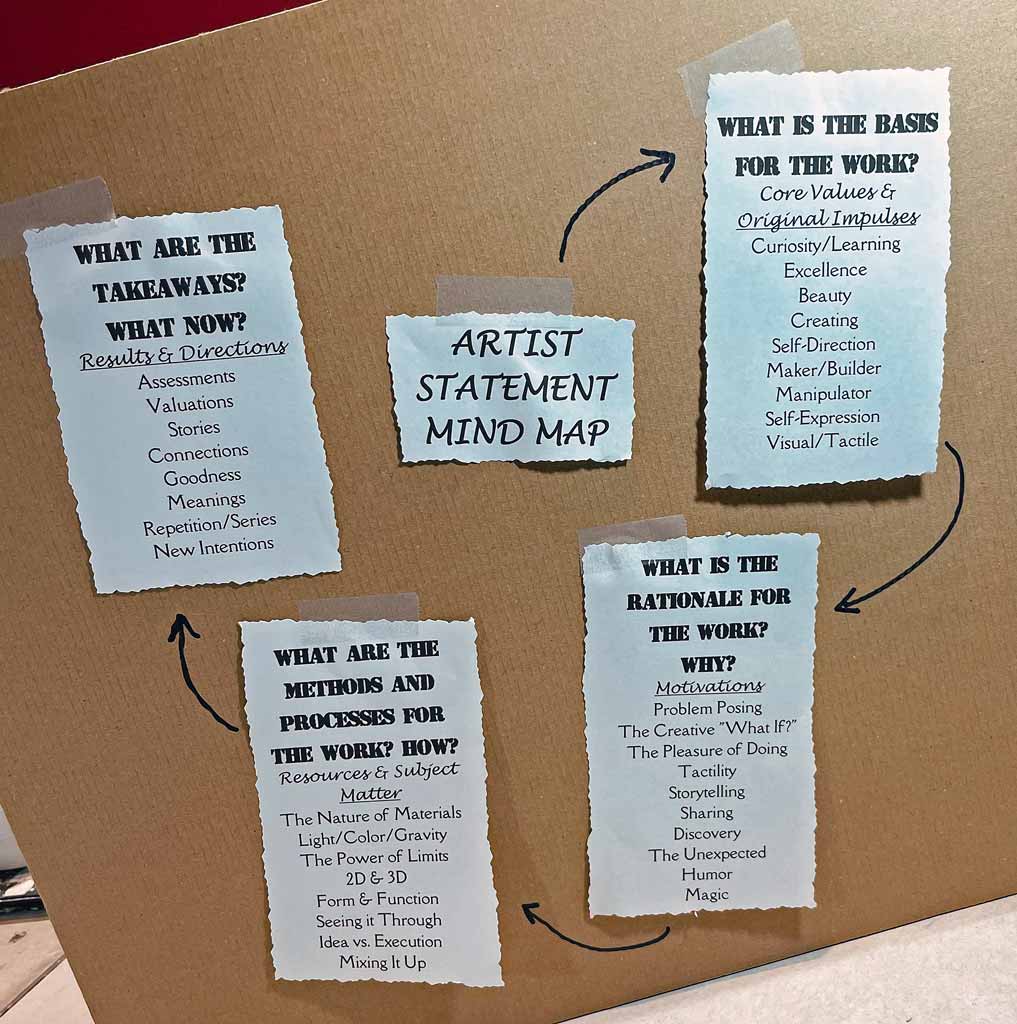 ARTIST STATEMENT FOR CERAMICS: I have always been a dedicated ceramic handbuilder. Over the decades, there is probably no building/firing technique I haven't given at least a cursory month of experimenting to. When I was a teaching assistant for beginning handbuilding classes, I still did all the assignments and counted at least 30 classes in that endeavor. Maybe I'm a slow learner, but I can tell you assuredly that clay  work is deceptively complicated.
In my latest body of ceramic work, I most fervently assert my love of knitting. I have crocheted and knit my entire adult life, crafting scarves, hats, sweaters and, lately, foods, fruits and other objects. It was a brilliant day when I realized how the knitting could be enfolded into the clay. It goes like this: knit something in plain string and dip it in liquid porcelain and take it from there. As I have said: Let's take two humble crafts and, in actually physically  joining them, make a new art. You see this here!
ARTIST STATEMENT FOR PAINTING: COMING SOON
ARTIST STATEMENT FOR MIXED AND OTHER MEDIA: COMING SOON