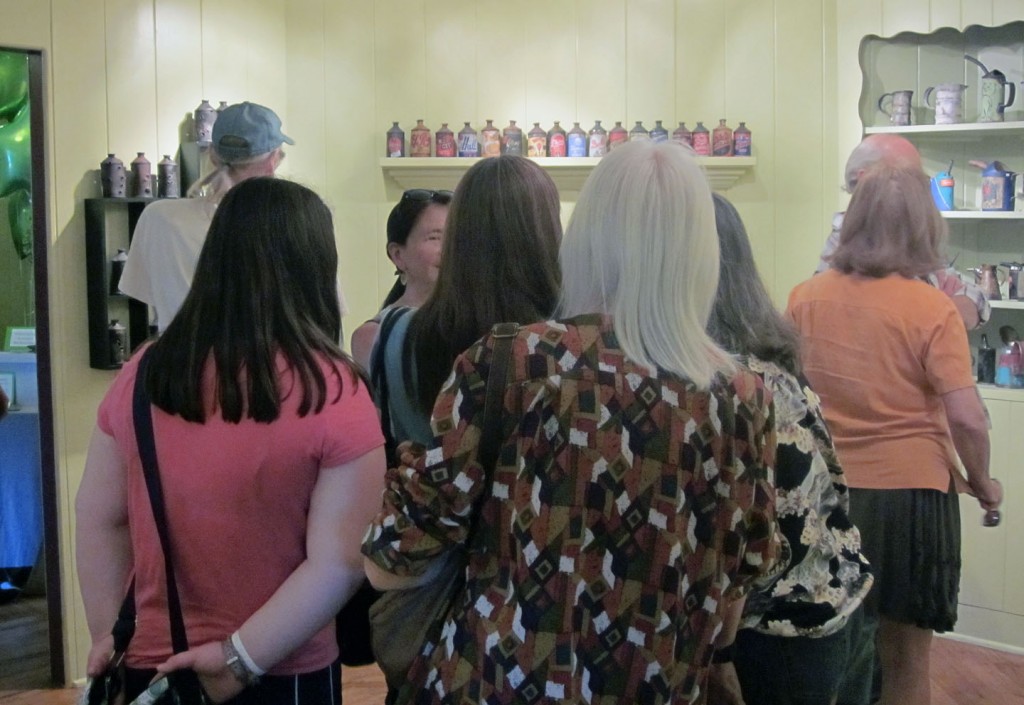 After all, the deep and true story of any Open Studio is the people. Oh, it might seem like it's about the unique art on display and available for purchase (My job is to make that true.) Or about the goodies to munch. (Up to my  helpers, really.) Or about clarity and support for the whole shebang. (I pin that on the trendsetting Cultural Council of Santa Cruz County.)
All that obvious stuff aside, what it actually comes down to is moment by unscripted moment, person by personal person. You do the artwork, make the signs, buy the flowers, fly the balloons, hang up the process storyboard and the 'interpretive messages' and open your doors at the appointed hour. And who comes is…. who comes. And it's always people: to see you and your art….or maybe just you or maybe just your art. And it could be anyone.
HERE COMES ANYONE!
It's a similar meet and greet as your wedding reception, graduation, or retirement: that  quasi-awkward and soulful roustabout that includes maybe everyone you ever knew and some you didn't. It takes a special stance and presence to pull off, especially for an avowed introvert like me who needs time and space to recharge from even a supportive tide of humanity. And generally I don't get that!
This year, opening day was also my birthday.  I passed out faux diamonds to the delight of my visitors and I went out to eat afterwards with my family at a pretty wonderful place. I was an overwrought birthday girl who still needed to pull it together and manage 11-5 on Sunday, too.  I swear, the voices did not leave my head for a week. At least I had time between first weekend and Encore Weekend, but of course I spent that time making more work and visiting other ceramics artists.
Yet, now that a week or more has passed since the closing Encore Weekend of the Tour, I'm able to describe in small vignettes who extra unexpectedly dropped by this year.
NEIGHBOR PETE
We love Pete. He's 94 – as he is quick to tell you – and still full of vinegar and gab. He met my son Roger and his girlfriend Cassandra on the sidewalk when they were returning from placing my green directional  signs at the corner. He regaled them with (um…repeated from last year) stories of World War II and the young men he trained to fly, saying he still gets birthday cards from them. It's a juicy memory for Pete and he came up the driveway and into the Open Studio gallery at least twice more that day to tell anyone and everyone in the room of his fond escapades. His lively blue eyes and peppery gestures delight, and it's fun to manage his excitement with as much love and enthusiasm as he generates.
HIGH SCHOOL STUDENTS
I can easily tell the local high school ceramics students who come to dash a few notes and check off another artist visit. I jokingly ask them "Got homework?" and proceed from there. My mission: become 'real' and defy the Artist on a Pedestal mystique. It's just me, Lizzy-From-the-Block, who happens to make some awesome shit. Yeah, take photos! Yeah, I'll pose. Yeah, say hi to your instructor because I KNOW him and we're passionate about the same thing.  May they come to see how this is not mysterious, just fueled by love of expression, the curious artistic "What if?" and an excellent work ethic.
THE NO-PRESSURE BUS TOUR
About 48 hours before opening day, I got an email from the Cultural Council alerting me to the arrival on Sunday of the 24-seater bus full of major donors to the Cultural Council. I was the last stop.  I could have opted out of the visit, but why would I?  It proved to have an unforeseen impact. First, the bus arrived 20 minutes earlier than targeted! Son Max, the professional bartender, scrambled to grab the wines and glasses on the front table and also serve up  the husband-made foccacia and olive tapenade.  The bus tour completely filled my small old-house spaces with bodies! They'd already had lunch and enough wine and appetizers at the five other studios they'd taken in earlier,  so they were tuckered out and had seen enough.
One of the tour leaders mentioned to me in the milling onslaught that I could speak to the group if I was so inclined. I hadn't considered that, but taking it as my only chance to make friends – seeing as how some were beginning to leave after only about 15 minutes  –  I decided on the fly to address them. Many were already outside headed back out to the bus, so I found myself on my front porch delivering a heartfelt and choked-up impromptu speech about the Full Circle. It went some thing like this: Thank you deeply for being here.  We all count in this artsy endeavor. Even when you are not here, I carry your enjoyment and support back into my studio. The learners you also support in the schools matter.  I've seen the 2nd graders I taught as a SPECTRA artist in the 90s arrive at Cabrillo College Ceramics or here in my studio,  still on fire for the arts. All hail Arts Education, your vision and your presence!
What I said – I wish I had a video – felt genuine and true. I was SO glad the bus tour came here, but not for the reasons I thought I would be.
HOMECOMING TIMES FOUR

Some of my visitors walked unannounced up my front path after decades of no communication. I was relieved to recognize them AND remember their names. Seriously. That is one of the greatest skills an Open Studios artist can cultivate: name and place retention. Of course you have your mailing list to help jog your cognition, but these folks, well, I'm talking OUT OF THE BLUE and good luck with it!
Mom of Young Son's Playmates: Stunningly beautiful, with her new husband in tow, after moving out of the country and back and then to at least three other states before returning to CA, was the mom of two grown boys, friends of my sons back in the day. I remember all four kids perching in the almond tree out back when the branch her boys were on gave way and dumped them on the ground, with only a few scrapes and lots of tears. The almond tree has never looked right since. A joy to see her now, though.
Former Co-Worker Buddy:  What's special about the smiling face of a fellow Intel adventurer from the 70s? I left, he stayed and retired comfortably at 50. It's been a long time, and we have Facebook to thank for the initial reunion, but there he was, smiling the same and sharing some of his current interests that also happen to be mine and my hubby's. I sense another confab real soon. No time lost and what a pleasure to reconnect.
Very Special Auntie: She was frail and tentative. And before I knew she was here, the bus-tour had overwhelmed her like a tidal wave. When they left, she was still there, aiming to make herself known. We chatted a little and then I re-introduced her to my now-grown sons that she'd doted on. An honor for her to visit.
Longtime Missing Clay Colleague: She had moved and moved again, I'd heard. It'd been over seven years, yet I'd never heard from her, even with a few notecards of inquiry sent. But the soulfulness of our formative years in clay classes and open labs was not to be denied. She came with her gracious grown daughter and I've forged a reconnection for which I have hungered and hungered.
As it turns out, the Art and the Open Studios format is the bait. It's the human connection that  binds and lasts. My artwork, as passionate as I am about it, is merely a backdrop to those connections.  Yet without the Open in Open Studios, without the Full Service presentation and a certain formality, without the serious and true family backup, the postcards to my mailing list, the consistent Facebook postings, the rest would not take place. Of that I am convinced.
Last post I talked about the  chunk of my Clay Tribe I could visit during Open Studios. That tribal group really extends to all the neighbors, students, bus tourists,  former acquaintances, appreciators and visitors. After five years of Open Studios I finally get how the reception is for everyone and I expect and welcome all comers. Because that's who matters.
~Liz Crain, who struggles to maintain her harmony and equilibrium all year long, not just during Open Studios.