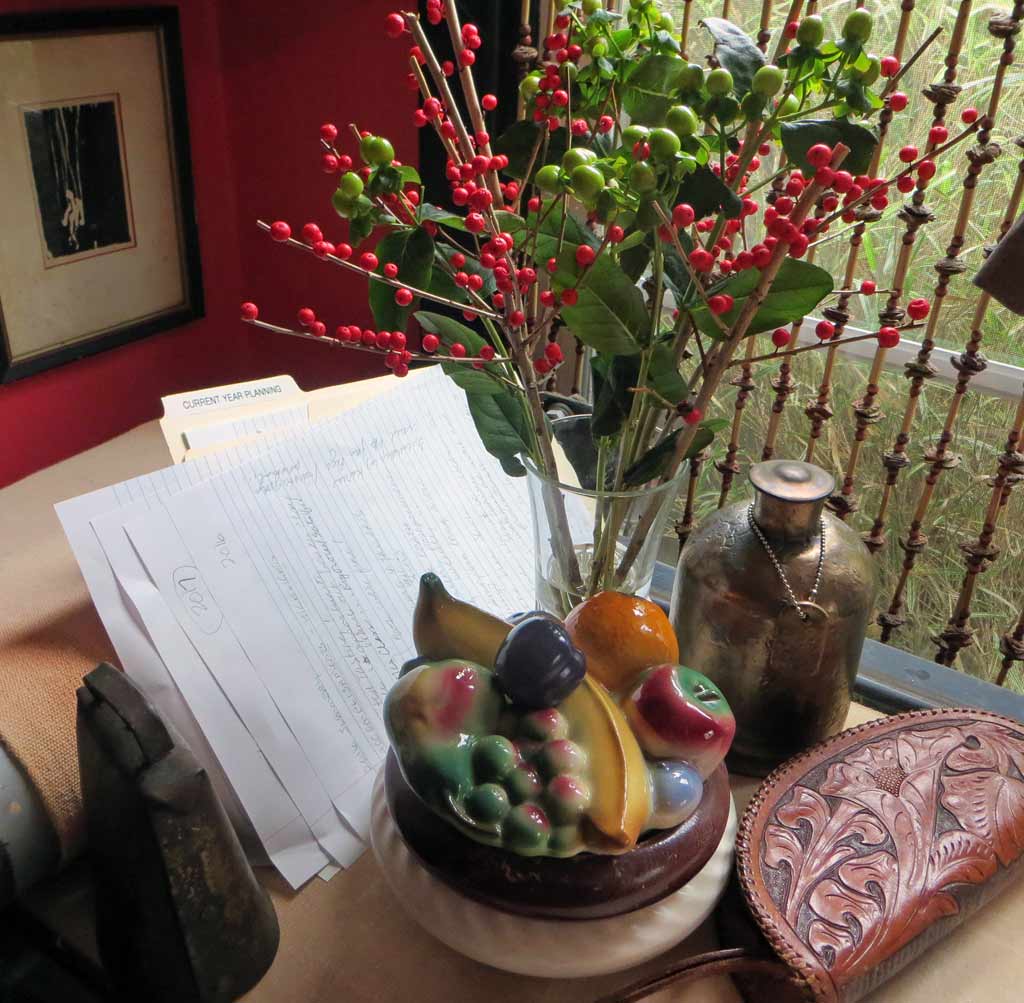 Each December I take a moment to reflect on the past year and try to peer into the next. It's an agenda-less non-ritual with a few symbolic visuals, good smells, candles, flowers, and cowbells. This year I carried objects of continuing fascination to my (slab-roller) altar. I also brought my lists: 2016's Successes and Suckages and 2017's Future Games. This writing is intended to be my last post for this year, so I will dwell on 2016's Gumbo of the Sublime and see you back here bright and early in 2017 to discuss what else I can see on the creative horizon and how you and I can meet there.
Highlights of a Very Speedy Year
In front of my crammed table of beer cans at January's "Twisted Tasting" I met two artists who later asked me to participate in the "First Annual Masters of Santa Cruz Art Show" in November where a bunch of us shared our renditions of the Mona Lisa. Because of that show, I began working with wallpiece tiles again.
I was joyfully accepted by jurors Sergei Isupov and Leslie Ferrin into "America's Clay Fest IV" at Blue Line Arts in Roseville, CA. (See Hard Knocks and Epiphanies for more on this one.)
Turns out that I dig writing about other artists. I started doing that at the Pajaro Valley Arts "HOME" Show, which was also a fertile beginning for my weekly rhythm of Studio Journal posts.
The "Great American Mug Show" at the Radius Gallery was where I began sharing my faces and mugs again.
Cabrillo Gallery's "Rare Earth" National Ceramics Exhibit was a fabulous opportunity to represent with my hometown clay tribe on a national stage.
Sunshine Cobb's Workshop at the Walnut Creek Center for Community Arts was life-changing and I told her so. I just transcribed my notes and I tell you, there is gold there I can't wait to get my hands on.
My Beastly Beauty Philosophy Class has let me find underpinnings for my scattered aesthetic ponderings and quandries.
Hard Knocks in a Very LONG Year
Suffering over Process vs Product, Art vs Craft, Personal Expression vs Production and other Angsty Shit.
Wondering if I even wanted to work with clay any longer and avoiding my studio a lot. (See Epiphanies.)
Turning down a solo show for 2017 because of the uncertainty about what kind of work I would be doing, much less be ready with a gallery-ful of quality.
Trying a new spring outdoor art show and realizing all over again I don't generally do well in mixed-media venues, especially with wind gusts of 35mph.
More about America's Clay Fest IV: my piece arrived with a broken handle. It was roughly glued and still displayed in the exhibit.  Long confusing after-story, but UPS settled the claim and sent me a check for full retail value. NOT how I want to sell my art!
Experiencing such great loathing when entering online data, whether it was photos, logs, website updating or Shop listings, I could not get myself to do it.
Sitting out the ACGA Palo Alto Clay and Glass Festival and the Santa Cruz County Open Studios with pangs of bittersweet regrets that I knew were illogical.
Realizing that my Graphic Design and Calligraphy & Lettering classes, while tangentially useful, were better described as intimidating sidetracks.
Learning that until I have actually created a body of new work, rearranging my website's "information structure" in anticipation of it is premature.
Epiphanies and Conclusions
I still love working with clay, but it must be done with active curiosity, a strong streak of unpredictable idiosyncrasy, and utter authenticity, with all of my faulty humanity included. ("Forget your perfect offering, there is a crack in everything." -bless you, Leonard Cohen.)
That said, my art-making process in every medium I've worked in has always been a messy one.  Additive and subtractive by turns, amended and restated, discovered in the thickets while hacking away. While that's often a bit harder to do with clay because of the irreversibility of some steps (ahem, firings), I realize part of my dissatisfaction and doubt came from confining myself in too narrow of a making channel: Do this + Do this + Do this = Done. That ultimately squelches my soul. Well, in response, I've jumped the tracks and am running free in the fields now like the baby locomotive Tootle, unconcerned about timetables and destinations.
America's Clay Fest IV: I am now BFF with my local UPS Store, and while I may or may not enter subsequent Clay Fests, I know they will make all my future shipments anywhere wonderful ones. And discounted, too.
I enjoy and require learning and synthesizing, wondering and philosophizing, writing and sharing.
I need to see my collectors in person. Galleries and Shows don't let me do that as easily, so those in-person shows are a form of creative oxygen.
I must work slowly, thoughtfully, in person, by hand every step of the way.
–Liz Crain, who sincerely thanks you fans for following along as she has poked around with her weekly postings. This is her 198th post since beginning in 2009. That's an average of 28 per year, but it does not tell the story of 2016 very well. There have been 38 posts in the past six months,  and talking with you all has gone from a sometime quasi-ordeal to a welcome part of her week. Glad it is for you as well.