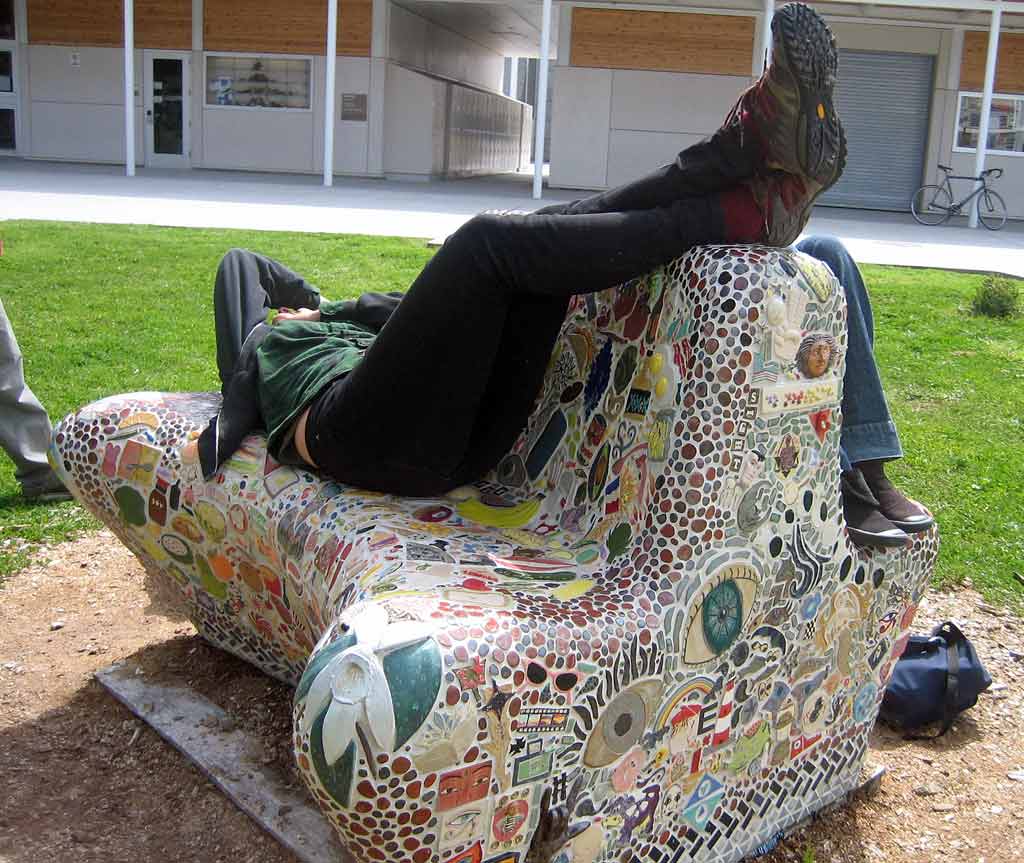 Once upon a time… 
a whole bunch of Sculpture and Ceramics students made a large freeform mosaic bench. It took four years and I was ringmistress for the last two of them. After another two years it was installed in its permanent location in the new Art Quad at Cabrillo College. That was seven years ago as of this writing. It's weathered a few winters, droughts, preschool field trips, freeform mime-dance performances and hundreds of lounging students. It's a landmark and a meeting place. A sentinel and a touchstone. And, one day, a tile broke off…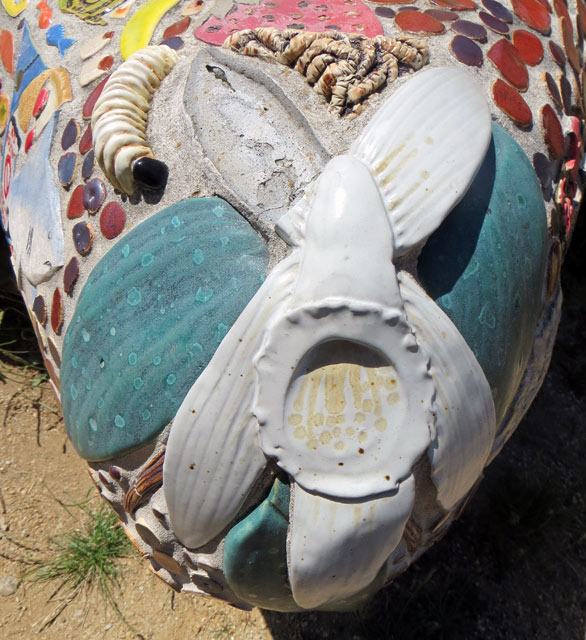 Entropy happens. I am certain SOMEONE is in charge of patching up Gaudi's Parc Güell and Niki de Saint Phalle's Giardino dei Tarocchi. Who would staunch the decay on the Come to Our Senses Bench? I resisted for a time, but I knew it would be me.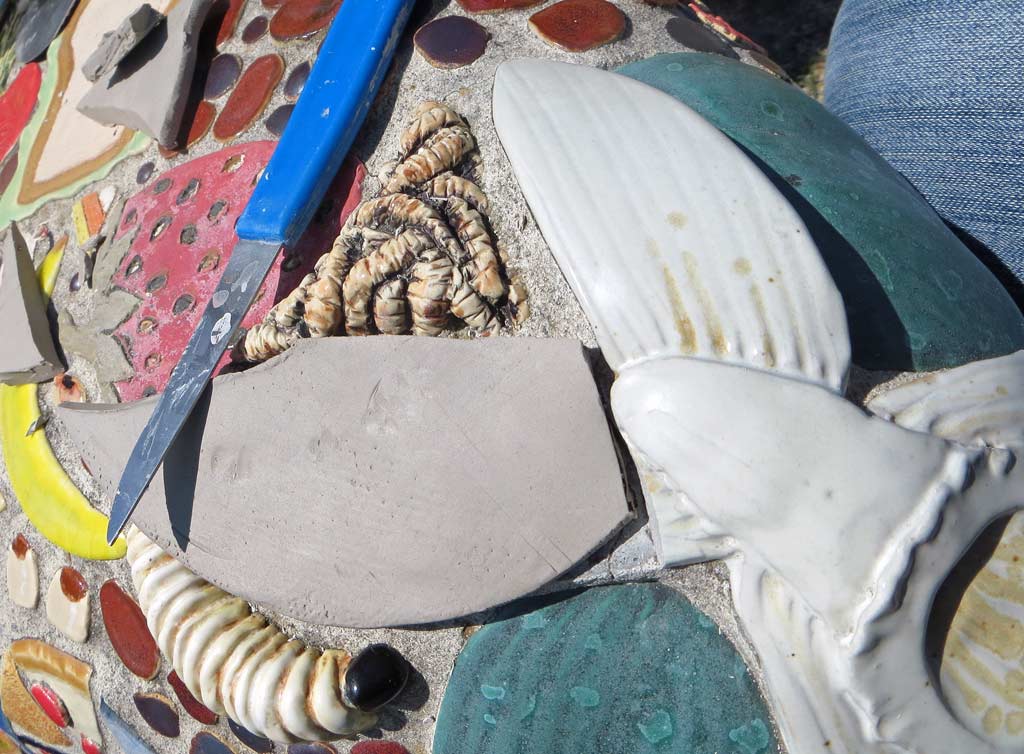 After considering other matching and patching solutions for this vanilla orchid petal – Magic Sculpt, metal bling, painted grout – the inevitability of making a new ceramic tile came clear. The challenges were essentially all about shaping: getting it to shrink to fit with the proper curvature. I made nine test tiles in two batches. And wondered the while how I was going to camouflage the illusion-shattering broken off edge.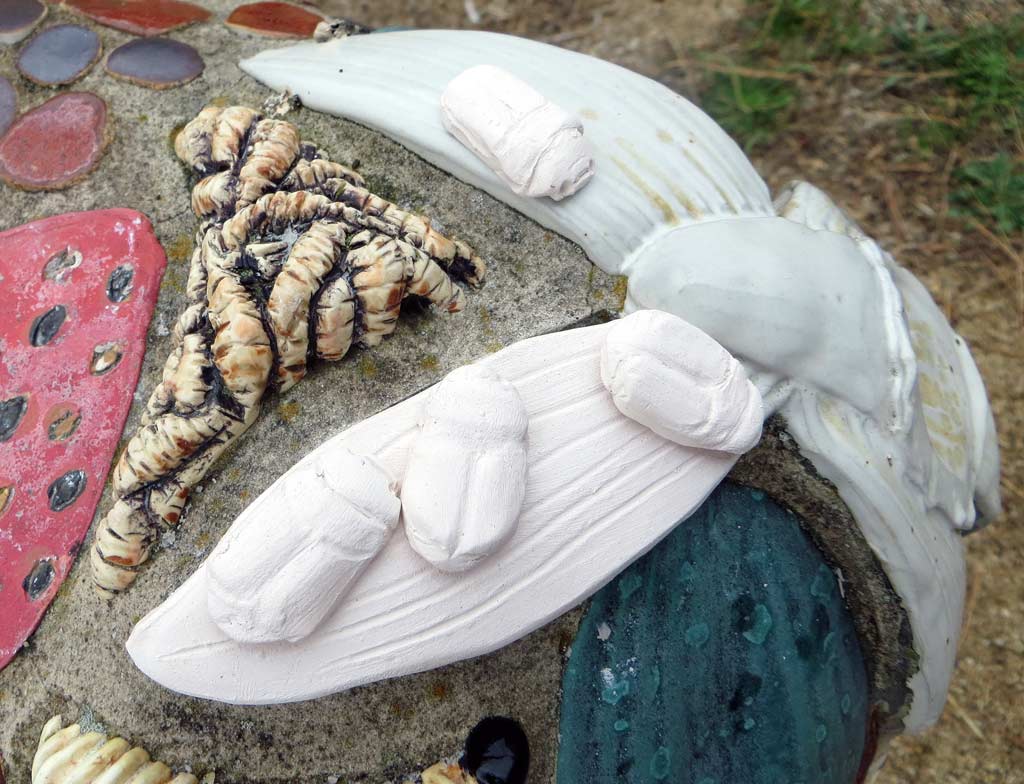 One tile was clearly The Right One. Whew! And the idea of covering the broken seam with a vanilla orchid beetle (who would be at home near the Sago Palm Grub and pile of mealworms) came to me. So I made a few of them, too, looking for that sense of inevitability.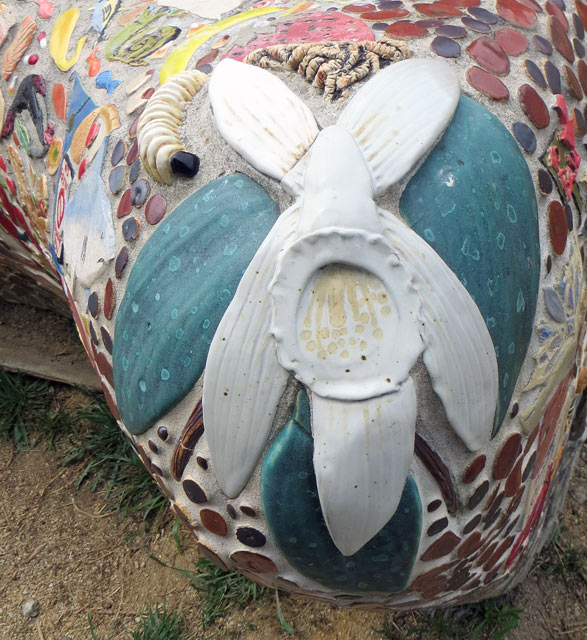 After matching the white satin glaze with touches of rutile, (more testing!) the tile began resonating with the whole flower once again.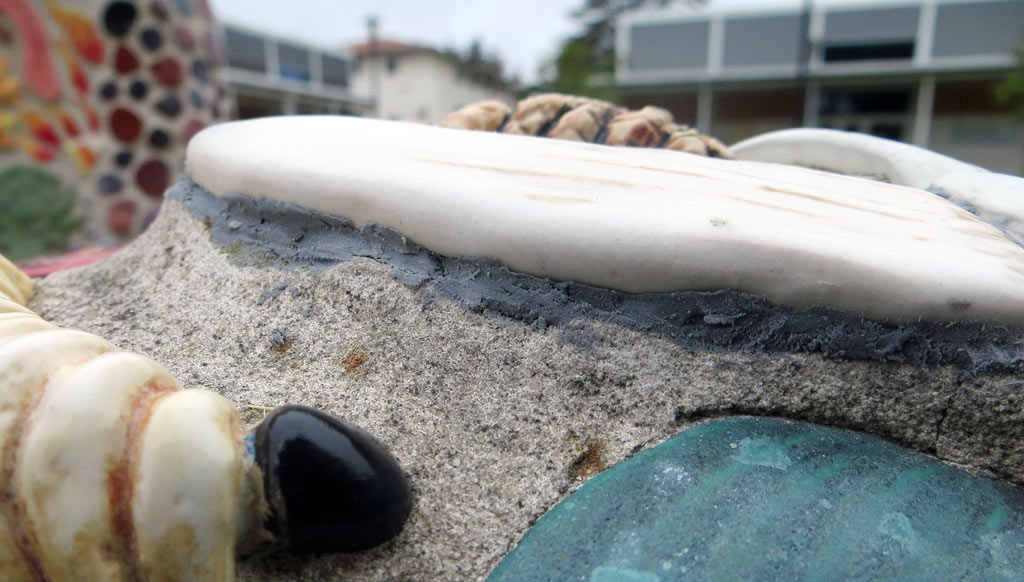 I used Hercules ProPoxy 20 to attach Ms. Right Tile, which would fill in any unevenness below (which is one theory of how it broke in the first place) and the gaps with the remaining grout edge. It would also set up quickly, be as hard as steel.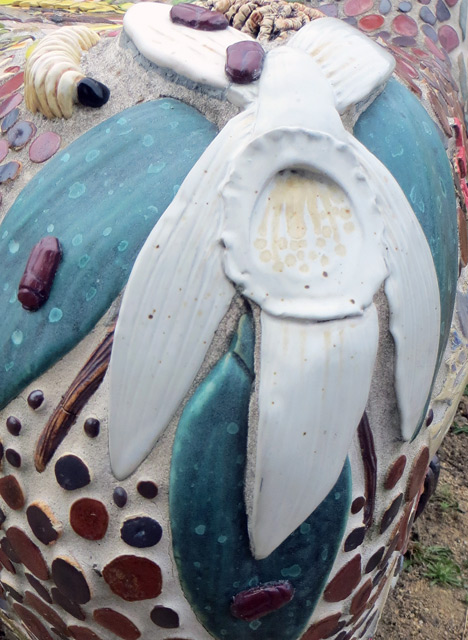 The surprise of the whole repair was the addition of not just one vanilla orchid beetle to cover the crack in the petal join, but the fun of "infesting" the whole area with them.
Who knew that ten or so years later, the bench would get a coda to its story? I'm not often around the Cabrillo Art Quad these days, but I will always stop by The Bench when I am, give it a pat, and check to see if it needs another shot of something fun.
–Liz Crain, who wants to thank the folks far and wide who were involved in the special corner of ceramic history that this collaborative piece represents and who obviously still care deeply about it. We are Keepers of the Keys. If any of you wants to read more about it now,  for six months in 2009-2010, she wrote weekly about specific tiles as well as the whole project. Just type "Thursday's Tile" or "bench" in the search box in the right column and have at it anywhere. You can also read about just the original Vanilla Orchid tile or a summation of the whole endeavor.