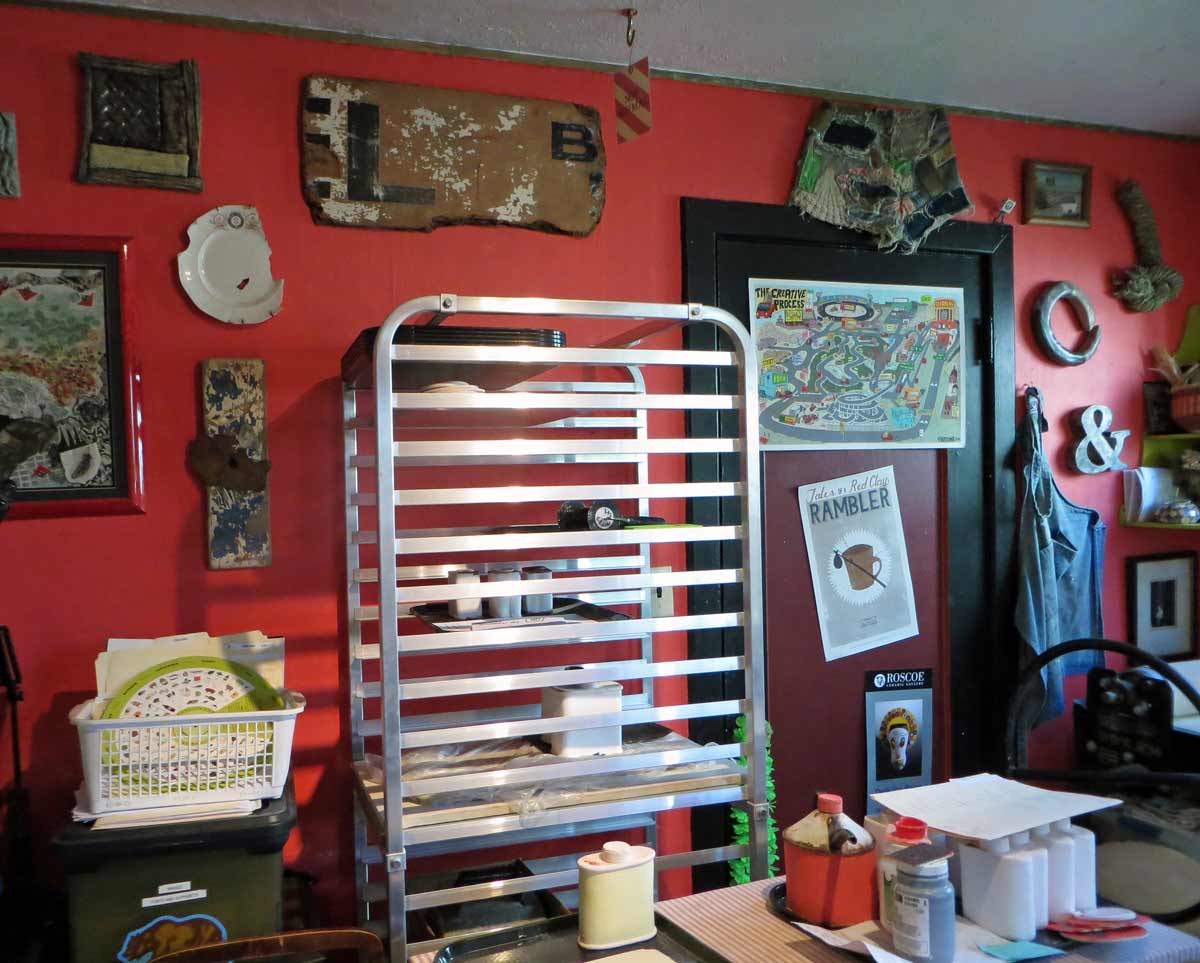 Moving right along with the Virtual Studio Tour, this third week we turn to the shorty South Wall. It's relatively short because the usable area falls between the furniture on the adjacent walls and the closet door. But what it lacks in length, it makes up for in versatility and depth, as you will soon see. (You are also invited to read about the North Wall and the East Wall.) This very close look at my studio is a way for everyone to step inside and see what's where and why. It is so much MORE than you would get, even in a personal tour or during my upcoming Open Studios weekend, when you can look, but not go in.
The South Wall is About Mobility
Yes, that's a bakery rack on wheels. It makes for incredibly compact and flexible storage for works in progress. I use trays which slide in anywhere, depending on the height of the work on them. As of this shot, I am finishing up my last round of work for my annual Open Studio, so there is very little work in progress, but at times it is a crammed tower of production.
Just in front of the bakery rack is a small Ikea wheeled cart which is topped with an 18″ x 40″ canvassed board, making for another movable work space. All you can see in the photo is the top. If you're curious, the Ikea Cart Hack  will tell you how to do it yourself. It is my most used horizontal space, truth to tell.
The things to the left of the bakery rack are more files. This time for patterns, templates, typefaces and imagery. The fullest drawer (not seen) is labelled "To be Filed." I can try.
As for the art on the wall, most of it is found: in the desert, at the beach after a storm, in the gutter. I'm all about the beauty of what happens all by itself.
What's in the Closet?
Let's open the door.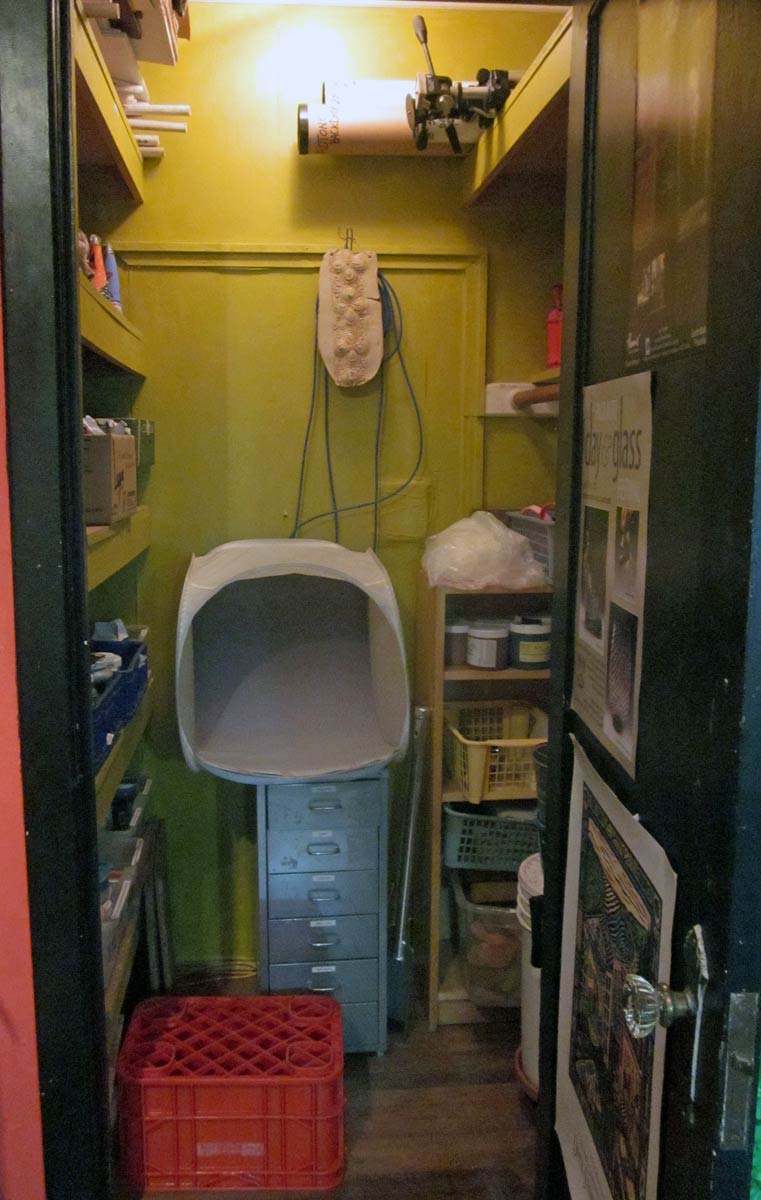 MORE storage!  This house was built in 1933 and it has great closets, every one of them rather oddly configured.  Straight back another rolling drawer thingie. This is full of my texture stamps and tools, mats and plates. I don't really make textured artwork right now, but I could anytime and a collection like this takes a long time to gather and curate. On top is my small light tent, ready for a quick set up and photo-taking. That narrow bookshelf is mostly deeper storage for sponges, glazing tubs, tools and the stains/glazes I buy in quantity. Needs tidying!
But, here's the rub: the shelves on either side of what you see go back 30″! That's the depth! To the left they hold full depth drawers of glazes (bottom), finished work (middle) and destination storage of Open Studios signs and portfolios of old artwork. It's a pretty boring shot, so let's look at the right hand side, whose shelves aren't as deep (where clothes used to hang)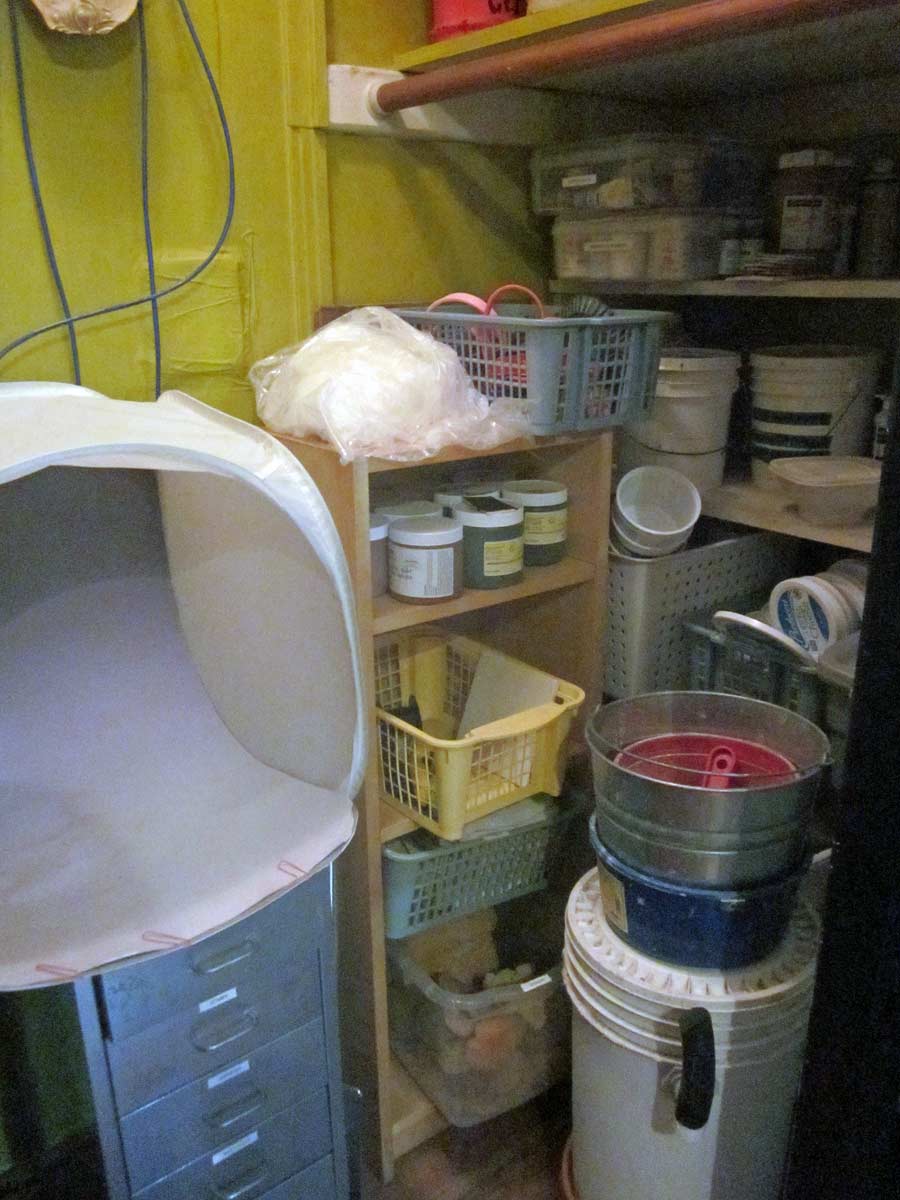 See? Low on the right: my fantastic homemade Clay Glop Bucket, which I wheel out when it's time to change my water basin. Behind it on the shelves, plaster forming molds, tubs of empty containers, Low Temp glazes used for special effects, and more oxide stains than anyone needs. The two deeper shelves on top – out of the frame –  contain more finished work and my photo flood lights, gradated backdrops, and tripods.
The Corner of Good Will and Blessings
I am gratefully aware of my kind teachers and mentors. Things here are in honor of them. The ceramic Rope Swing (for Fate), a pit-fired Enso (for Endlessness), an Ampersand (for Connections), baskets of memories and caskets of special objects. These all literally have my back as I work on the North Wall and keep on keeping on in memory and tradition.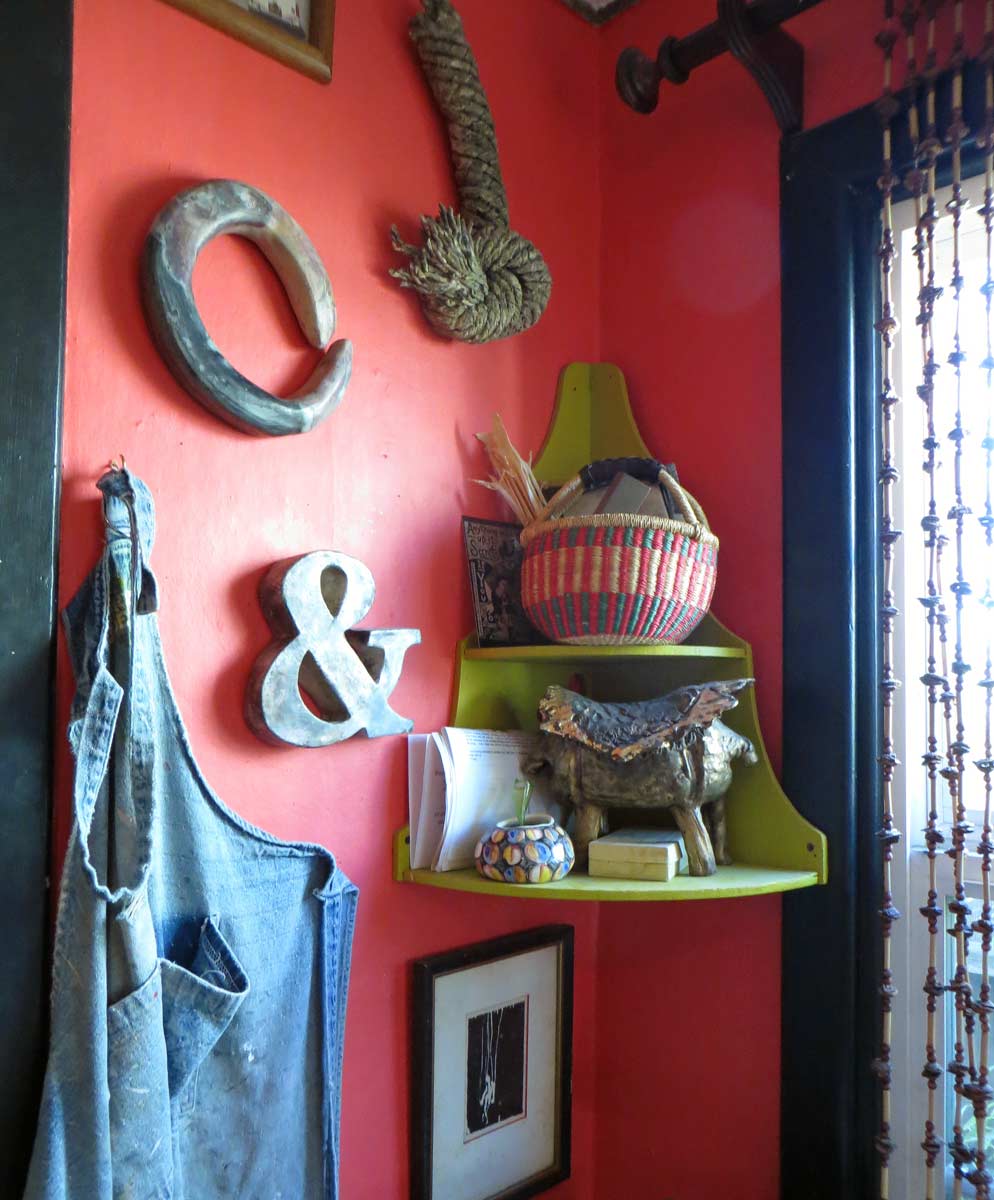 –Liz Crain, who is really letting some skeletons come out to play with this annotated Virtual Studio Tour. Hope you are profoundly moved by their bony dance.