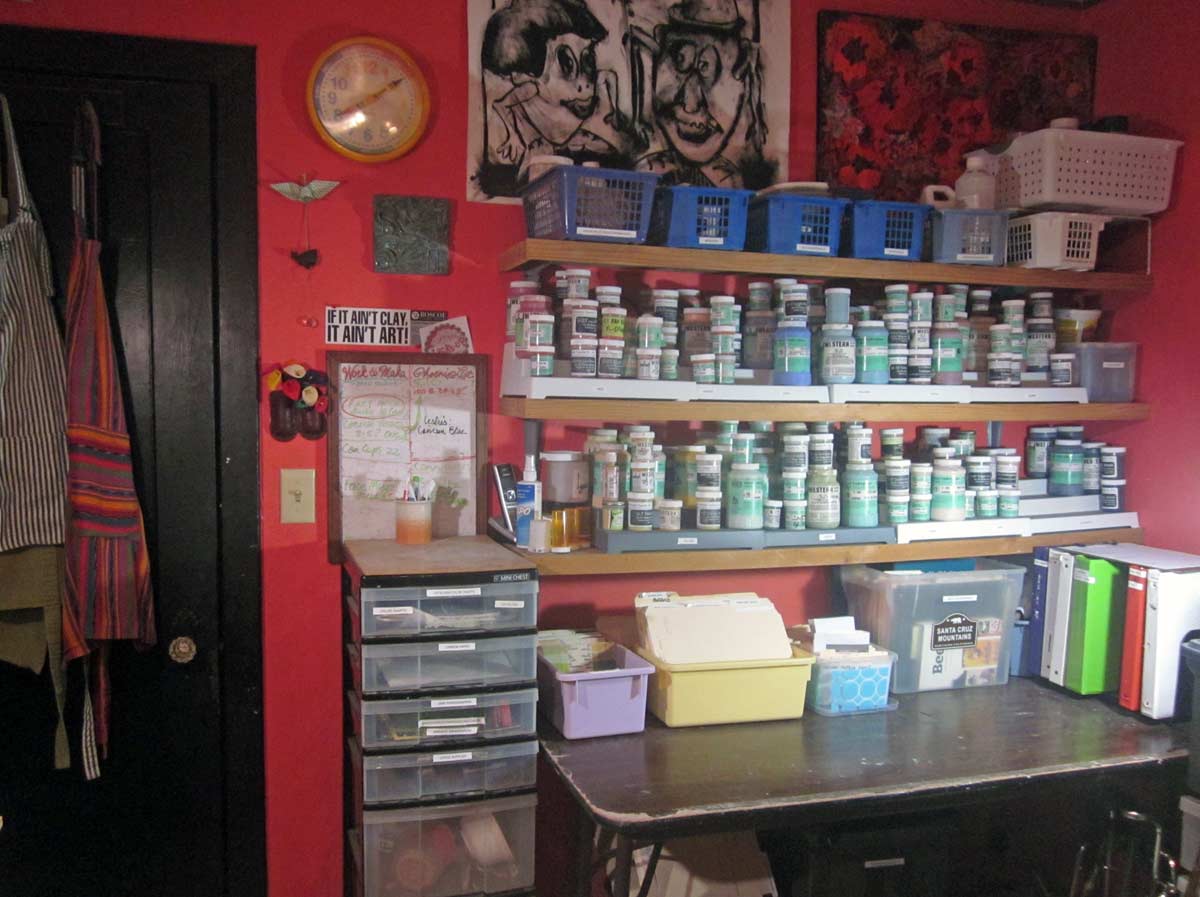 Here we have Part Two of the Up-Close and Personal Virtual Studio Tour. (Read Part One, if you like.) We take a look at the East Wall and its groaning shelves, tubs and binders. During my Santa Cruz Open Studios Art Tour weekends, visitors can peek into my studio, but not enter it. From the doorway (on the left in this photo) they really cannot see this workhorse of a wall. So here it is, from my daily vantage point.

The East Wall is About Very Handy Storage
On the left is the back of the paint-it-black entry door, which stores all my aprons. The apron on the right is special and you can read about it  and cry. I hung a tiny windchime on the peg with that apron and hear it whenever the door moves. It makes me smile.
To the right of the door is a temporary landing pad for nearly anything I don't want to lose in the studio fray. The drawers below the landing pad contain catalogs, color charts, graphite and carbon paper, sanders and scrapers, Very Odd Tools, some glazing helpers (which I've decided right now need moving) and *gasp* an empty drawer! I could do better with this easily reached rolling cart.
Those loaded shelves are for my underglazes, which have clearly hit critical mass. I am in the middle of switching back to smaller containers (2-3oz) and many of those pints are nearly empty. I need to frugally use their last dribs and drabs before buying the smaller size. It has been a long haul researching colors and brands. I have clear favorites, even among the whites and the blacks.  All the unfavorites will get used and not replaced.  A year or so from now I expect to be able to reach for my dearest underglazes without knocking three other second place ones off the shelf.
The top shelf carries bins of specialty items: waxes, sealers, menders, underglaze chalks and pencils, adhesives and powdered colorants. I can just reach them, so they're perfectly stored. On the wall behind, you see a fun artwork by my buddy Diane Patracuola titled "Mr and Mrs." And yes, they are Potato Heads, which she has a thing for. To the right is a collage-painting of poppies that I made, which is warped, but just right tucked up there, creating mystery.
Let's Look at that Tabletop
Down on the table is the tub of test tiles for all of my underglazes, along with reference file tubs and binders of my studio production logs.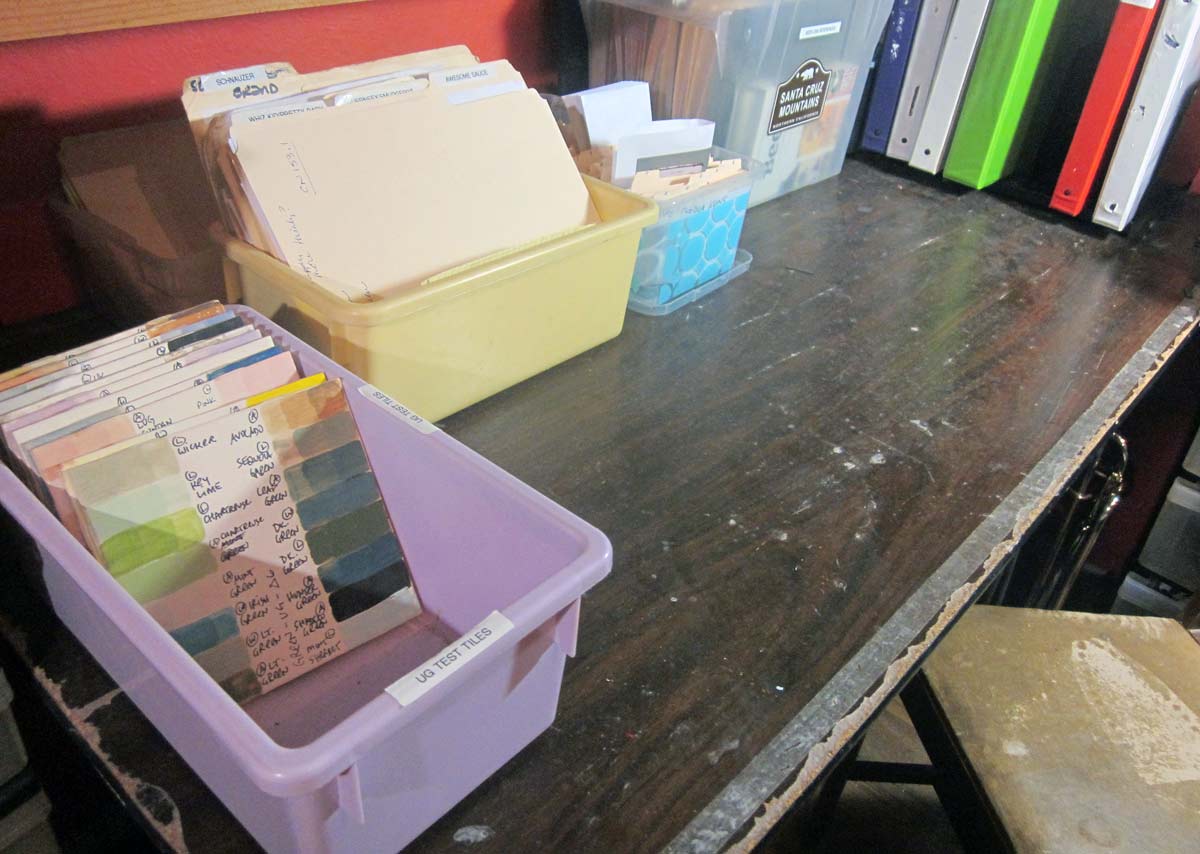 Those test tiles were a project. I had so many out-dated, broken, incomplete tiles it hampered my thinking. Now I have ten uniform tiles of up to 16 samples each, grouped by hue and value, fired to Cone 6. What a gift I gave myself in making them: the gift of thorough and current knowledge. I have begun to use my underglazes with awareness of color, coverage, feel in the brush, mixability. My preferences have lead to creating hues that are not available commercially.
Further on to the right are my attempts at catching my ideas. I hear a snippet on NPR, someone sends me a suggestion, or I am caught up with a word or phrase: I capture and stash it somewhere in these tubs. Later on, when I need ideas, I paw through. I sometimes sit on the chair and play word association and synonym-finding games at this table.  It is nice to sit down! I first thought this table would be my decorating place, but I just don't feel it there, so I do that on the North Wall (covered in the first part of this series.)
At the back on the right are my Studio Logs. It is a paper system in which I make complete notes about each piece as I create it: sketches, clay, underpainting, liner glaze, outside underglaze and "rust" colors along with application methods, firings, any re-firings, critical assessment, final dimensions, inventory number. I later enter the info from them online into the fabulous Artwork Archive, where I keep my show, gallery and sales records. I am in transition here as well: how can I keep all my records about each piece in one place?
What's Below?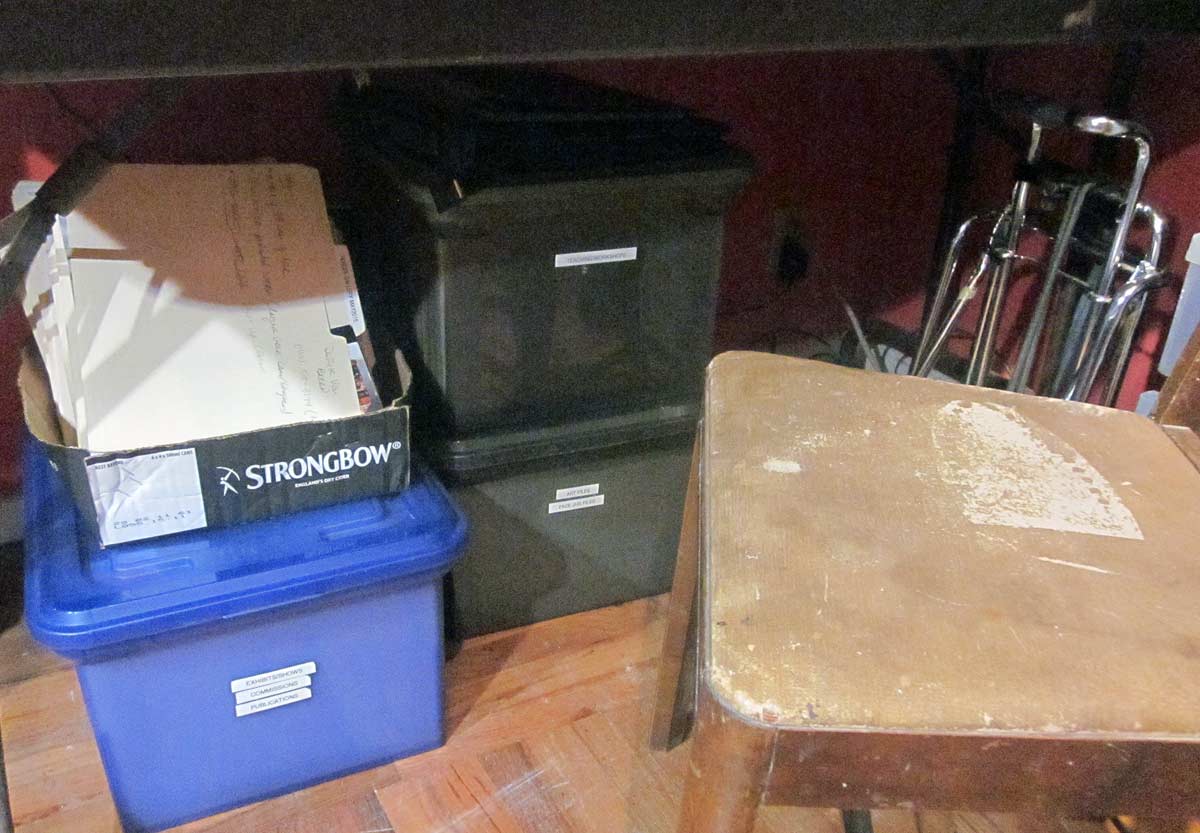 Not much can be kept under a chair-height table. And it needs to be grovelled-for in order to access it, so here I have tubs and boxes of deeper storage: Old events, galleries, shows. Teaching handouts and lesson plans, general art reference, articles and workshop handouts. Plus a hand cart I barely use now, so it can live happily in the near-depths.
And Lastly, the Interactive Tiny Inbetween Place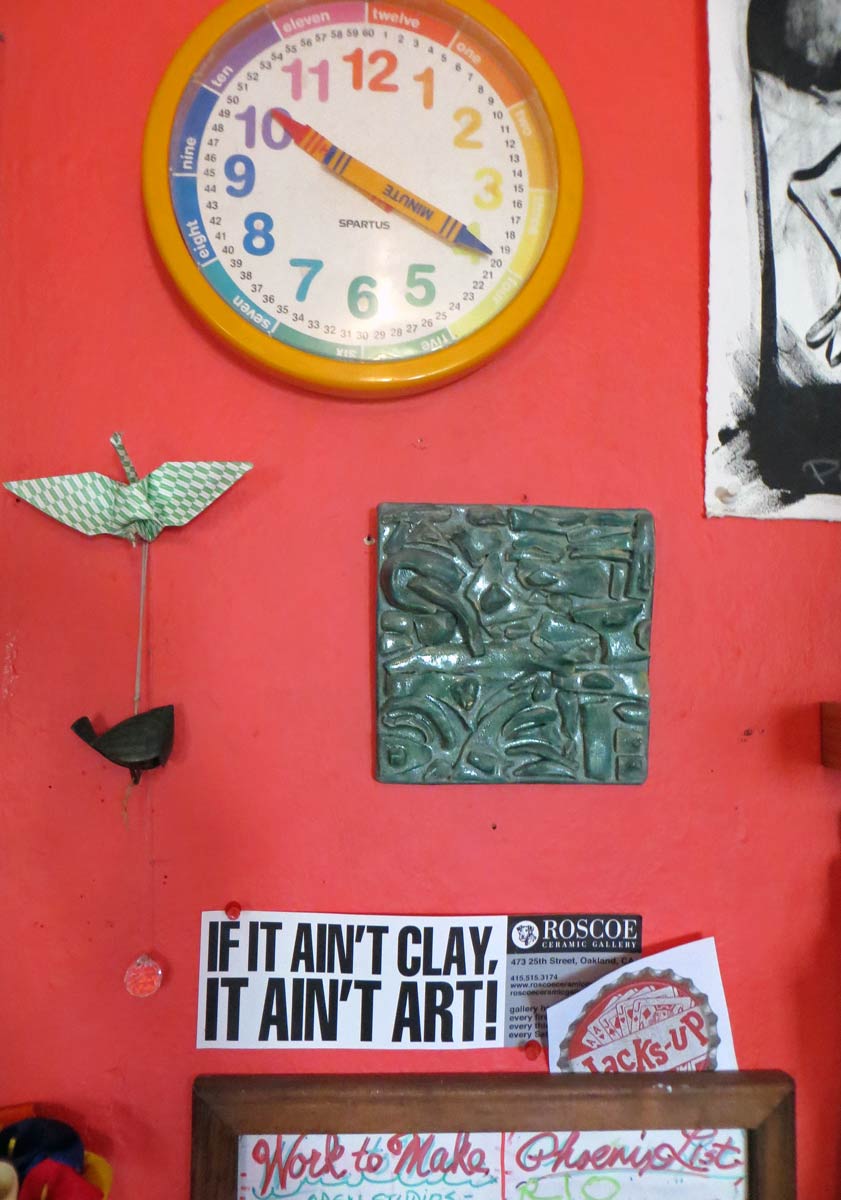 The dry erase board contains current projects and deadlines, as well as my notes of what I have run low on and where to get it. There is fun stuff all around it. My Roscoe Ceramic Gallery bumpersticker, an abstract tile mosaiced with odd bits of bisque, a birdie bell, crystal and origami crane. Best of all is that vintage analog time-teaching clock which hung in my boys' bedroom from their toddler days on to community college. When I'm gone, I feel they will each want it more than most of my remaining work.
–Liz Crain, who is sharing this Four-Part Studio Tour before her upcoming Open Studio weekend (October 10-11, 2015.) as a way to offer my readers and visitors who want more a chance to always get it here on my website. (Genius Customer Service, right?)