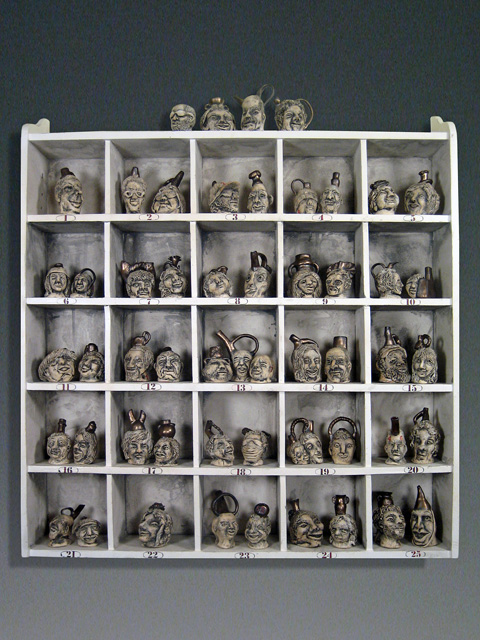 I am parting out and giving away this group of 53 miniature face jugs from 2009. They come with the caveat that I am hoping to give each one to the person who, unbeknownst to them, was the inspiration for it. After six years, that is still possible – a few have already been delivered! –  but it will take some time and help getting the word out. Desperately seeking these folks – and the folks who know these folks – to put us in touch and complete a circle I never knew I was making.
The Backstory, The Epiphany, Spreading the Word and the List of Names follows.
The Backstory
In 2009 I made 53 tiny face jugs: one each week based on the face of a person who answered the region's entertainment weekly's Local Talk column. You know, the kind of column which offers the photos and answers from random respondents – usually to some culturally, politically or locally burning question. I finished them in 2010 and over the years have shown them publicly in various local galleries, group shows and at my annual open studio. They have toured the County…a lot.
They have since hung out on my living room wall while I moved on to working less and less with faces and more and more with cans. Now cans is all I do.
I only knew of two of the jugs' subjects: the column's author, Matthew Cole Scott, who called me after seeing it on display and revealed that the man in the dust mask and sunglasses calling himself "Andy Gross" was really him! The other was a local artist and classical realist sculpture instructor. (And yes, I knew what he did when I attempted his "portrait." Gulp.)
But that's really it: I never thought of these little beauties solely as portraits of the people themselves – rather each mini jug represented an impressionistic bit in a series of artistic responses to the flow of faces. A sort of visual 3D tennis.
Sometimes doing this was a daunting chore. SO many locals wear sunglasses, for example, that I began to be delighted just to see someone's eyes. On the plus side, nearly everyone was smiling. I went for unique moments:  Someone hid her face halfway behind a wall – #41.  Someone stuck out his tongue – #27. Someone reminded me of an animal, a troll, a classic mask and so on. I sculpted the features and then modeled a custom spout and perhaps a handle to compliment each one. Each wet clay jug was impressed with the number of the week in which it appeared.
I collected the physical paper columns of Local Talk, numbering them as well. But I sometimes took months-long breaks in the forming and then madly caught up, hoping my "hand" hadn't changed too much. I also worried that the Great Recession would cause the paper to cancel the column partway through the year, dashing my plan.
I photographed my progress constantly and blogged about my experiences, process and takeaways. If you're curious you can read one of the last posts which links to many of the others.
It was work – and I do not see myself repeating it – but I love these little jugs. My favorites have changed over the years. Right now it is one impossibly sweet face from the end of the year – #49.
I always intended for them to stay together. Many folks have asked to buy just one or two – usually the oddest ones: that saucy #27 and that clown with the party hat spout, #25 – but my answer was always no, they were a set. Until…
The Epiphany
When I first considered selling the jugs individually,  I only got a glimmer of how.  Nothing made good enough sense and I dropped the puzzle for more pressing endeavors.
For one thing, I knew that as soon as that first one left, they would no longer be a group. And that if they were simply offered for sale to the public, some would leave because they were flashier or touched a more universal chord and the quieter more intimate ones would not call out to strangers.
Where was the meaning of just selling 53 mini face jugs? Not apparent. They were never supposed to be a product line. I kinda wanted each jug to not be anonymous any more, to magically fly to its person and be loved for its deepest self. But how, how, how?
Then it bubbled up like Ralphie's realization in A Christmas Story: "I know! I'll ask Santa!" But in this instance it was, "I'll ask Matt!" the masked author of the column who miraculously was still writing it.
Spreading the Word

I asked Matt if he wanted his jug. He did. The day I was to deliver it to him at the Avocado Booth at the Downtown Santa Cruz Farmer's Market, I realized that he would very likely know some of the others. I made my first list of numbers  – recall that each jug was numbered to match its column week – and looked up the NAMES. And yes, Matt knew around 13 or so of them!  Either they came to the Farmer's Market often, he was a friend, or he knew where they were. He was willing to help, too! He started making connections on his Facebook timeline.  Me too. The next week I brought four more jugs to Matt to deliver to their namesakes.
One of the first takers was my only double jug – #9 – of a mom and her very young daughter. And here's the hanky-wringing juiciest part of this whole endeavor: six years later Sarah Brown and her daughter now look like this.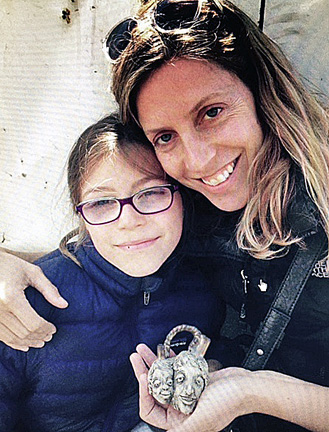 And if THAT isn't the heart meaning of doing it this way…nothing will be.
If you can help with this endeavor, I think we would all be thrilled and grateful and astounded.
Here's the list of Jug Numbers, Names and Locations in 2009. They are not in alphabetical order, so please read the whole enchilada.  If you know one  or ARE one, please put us in touch. Email me via my Connect Page here on the site.  Comment or message me on Facebook: Liz Crain.  Contact Matt Scott on Facebook too – or in person at the Avocado Stand at the Wednesday Santa Cruz Farmer's Market. I will keep updating this list as the jugs go to their heart homes.
2009 Local Talkers: Jug Numbers, Name, Location

1. Rob Aaron, Santa Cruz Connected!
2.Emily Whitman, Santa Cruz Connected!
3. Mark Moss, Santa Cruz
4. Peter Thomsen, Santa Cruz
5. Kate Helgin, Santa Cruz
6. Dina Torres, Santa Cruz
7. Sierra Knight, Watsonville
8. Shanna Guzman, Ben Lomond
9. Sarah Brown and daughter, Santa Cruz Connected!
10. Scott Veach, Santa Cruz Connected!
11. Deborah Hanson, Santa Cruz
12. Jesse Rubin, Santa Cruz Connected!
13. Vito Victor, Santa Cruz
14. Annabelle Hartman, Santa Cruz
15. Wayne Brown, Santa Cruz
16. John Laucher, Santa Cruz Connected!
17. Hannah Foster, Santa Cruz
18. Kirk Larsen, Santa Cruz
19. Claudia Cornish, Davenport
20. Gary Groy, Santa Cruz
21. Anna Henning, Santa Cruz
22. Ruth Mutch, Scotts Valley
23. Austin Wood, Santa Cruz
24. Russ Torrana, Santa Cruz
25. David LeVan, Santa Cruz Connected!
26. Keshia Caviglia, Santa Cruz Connected!
27. Justin Burt, Aptos Connected!
28. Jonathan Chorn, Santa Cruz Connected!
29. Chris McKisson, Santa Cruz
30. Ariana Gossfeld, Santa Cruz
31. Heather DeMascio, Santa Cruz
32. Bernie Elbaum, Santa Cruz
33. Larry Spitler, Felton
34. Liz Gerron, Santa Cruz
35. Jennifer Herrmon, Santa Cruz
36. Morganne Baum, Las Vegas
37. Chris Hogeland, Santa Cruz
38. Jesse Lemic, Santa Cruz
39. Michael Orick, Santa Cruz Connected!
40. Hal Burton, Santa Cruz
41. Jane Mio, Santa Cruz Connected!
42. Roger Knapp, Santa Cruz Connected!
43. David Baker, Santa Cruz
44. Alex Rudnick, Santa Cruz
45. Whitney Wilde, Santa Cruz Connected!
46. Jordan Rager, Bonnie Doon
47. Curtis Hamm, Santa Cruz Connected!
48. Aimee Friberg, Berkeley Connected!
49. Tamara Doan, Soquel
50. Andy Gross, Santa Cruz Connected!
51. Eric Raible, Santa Cruz
52. Rob Lemon, Santa Cruz Connected!
53. Colin Tierney, Los Gatos
–Liz Crain, who plans to keep connecting for several months – until the October 2015 Open Studios Art Tour – when she will offer the remaining jugs for sale to the general public.