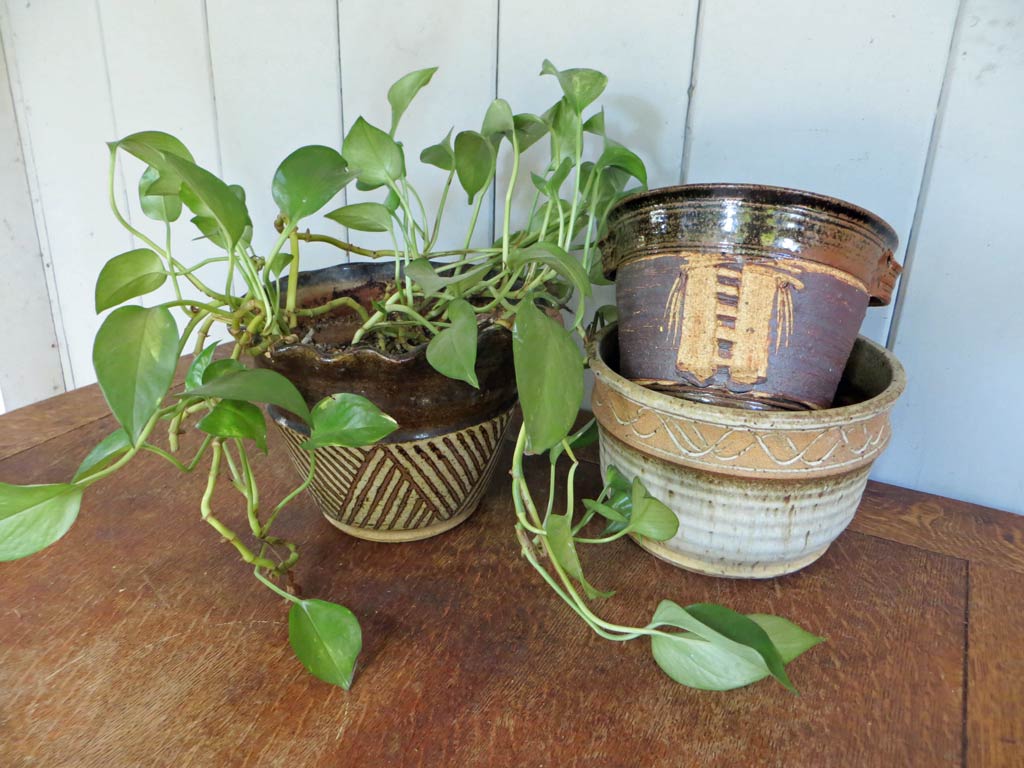 In this new post, I look closely at the handmade pottery I bought for my plants in the 70s when, for a brief time, I managed what had to be the grooviest store in Palo Alto, CA: Shady Lane on the corner of University and Cowper, which sold cut flowers, houseplants, batik clothing and agate windchimes. It is still in business, now in Menlo Park, with one of the original owners and a slightly different sales model. And I still have my pots.
I bought them wholesale, directly from the potters, who came by with their stuff for me to select for the shop. If I remember correctly, they were each about $6, retailing for – my goodness! – $12. (Which is $68.17 in today's dollars.) Two have the same iron oxide brushscript ER on the bottom and one has no potter's mark. Since discovering ceramics for myself 30+ years later, I wonder even more about the makers. Are they still potting? Who is ER? Anyone out there have a clue?
They sport those stoneware clays and earthy 70s glazes, many of which I can name now: the classic high-fired goodness of Tenmoku, White-Orange Matte, Black Iron Oxide. A sensibility derived in part from a late 20th Century Japanese influence which still lingers, especially in colleges. (One I have to admit I personally wanted OUT of as soon as possible.)
The pieces are expertly thrown and altered, being quite sturdy but not in the slightest clunky, each sporting at least one inspired extra feature. Two are planters, the bucket top right is a cachepot. The bold carving through the layer of oxide on the bucket always tripped me out. HOW???? So deft and yet so loose that the potter left the carved-out rumpled curls in many places. Ah, and then I figured it out: they threw/decorated/carved at the leatherhard greenware state, of course! Education opens eyes.
The planter on the left's flared and ruffled upper rim is just right, not too forced or too happenstance. A master knew when and how to touch. But I still can't quite get how they created those striped zig-zags on the bottom. Maybe a wax resist pattern first? Yeah, that's it…
The planter on the lower right is the most workmanlike. Nice division of space and throwing rings to catch the glaze. The biorhythmic wavy carving could be better, but it's a nice organic touch with the glaze wiped back to reveal the lovely warm clay body.
It's hard to overstate the houseplant mania of that time. Plant stores and fern bars were everywhere. How-to books abounded. My ex-roommate worked at the downtown San Jose store (by SJSU, of course) and I started by ink-drawing plants and handlettering care information for the store owner and all his other shops. When Shady Lane was opening, he asked me to manage it. I was young and needing a Big Change, so off I moved to Palo Alto, crashing in the store's empty second floor storage area until I found a – what else? – garden apartment.
When my now-husband moved in with me in that 400-square foot-apartment, (the same one where this happened) we had a combined total of around 90 houseplants. Turns out he's the one with natural plant knack, and he has had an herb and veggie garden wherever we have lived. The Golden Pothos in the photo is the only houseplant we own now. Decades old, it's in the same pot, alive in spite of me and my black iron oxide stained thumb.
–Liz Crain, who also still owns a long batik skirt from back in the day, but the agate windchimes have all broken.