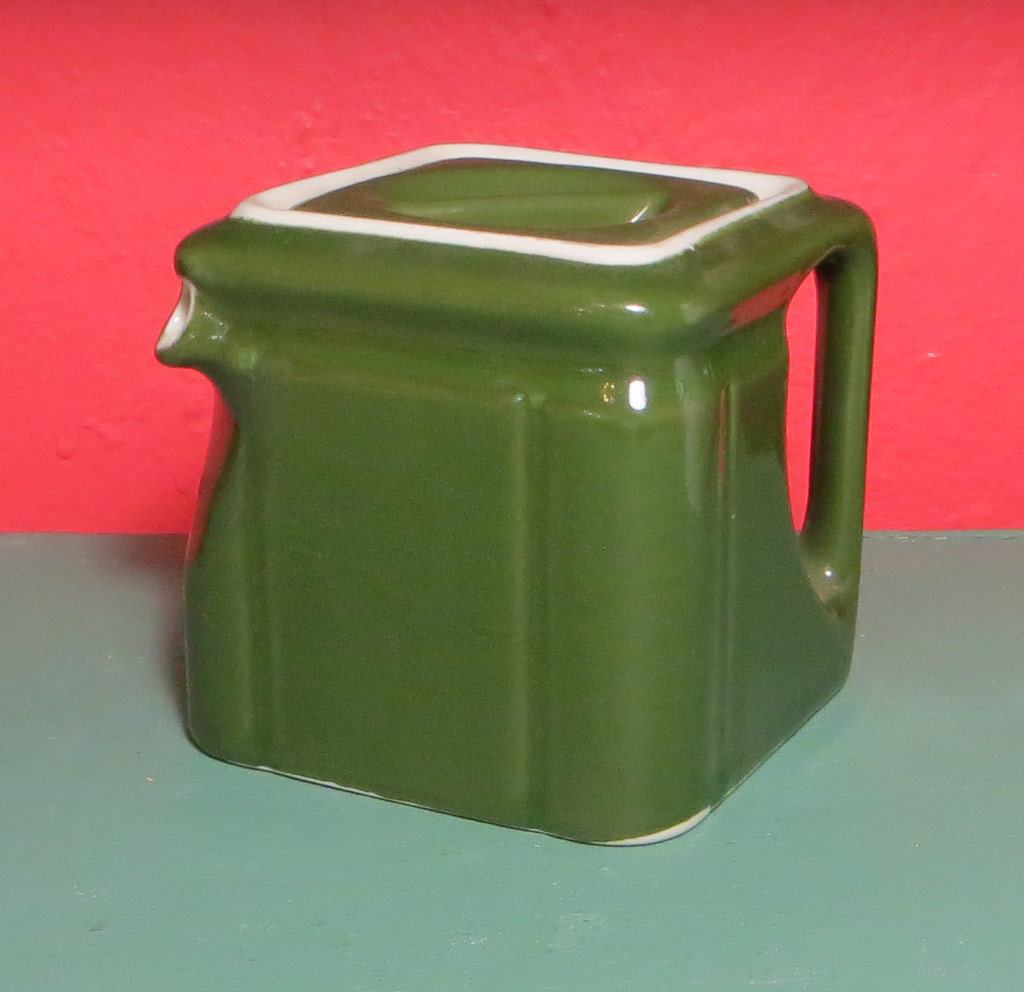 In very early 20th century Britain, if you were serious about your tea, you were equally serious about your teapot. It must brew well, pour well, clean well and store well. After all, taking tea could happen up to three times a day: upon arising (or even before), "elevenses" and precisely at 4pm. The young century's quest for a perfectly functional and unfussy teapot was a daily one.  So many teapots had at least one annoying flaw such as dripping, chipping or being impossible to clean. Lots of teapot makers attempted to solve for one or two of the problems, but only one claimed to solve ALL of them: The Cube, patented 100 years ago and popular for nearly 7 decades. By chance, I own one of these vintage beauties – seen above. It's backstamp dates it to ca. 1926 and I can happily say it does all the things it purports to do, with a simple plucky style as well. Let's look a little closer at The Cube, because sometimes thinking outside the box means returning to an actual box.
Beginning in the eighteenth century, the British were obsessed with all things tea. And through the nineteenth they were devoted to fashionable ways of serving it. Novelty art and collectible teapots abounded, to the point where they emphasized outrageous design and expense over function. By the 1890s teapots had become so flamboyant and ornate, there was a complete backlash. The quest turned to the health properties of tea: flavor, safety, cleanliness, as well as to a scientifically functional design for pouring and storing. Many individuals and companies offered a limited variety of improvements in all these areas, but it took one man to combine them skillfully into an eventual best-seller. Robert Crawford Johnson, with no art or design training, used the best ideas from several sources and then patented it. It brewed well, kept the server's hands from getting burned by both locking the lid and giving ample space between the inline handle and body of the pot. It poured without a dribble and was well-balanced. It cleaned up easily and could store compactly both side to side and in a stack. Its simple lines also provided relief from Victorian excesses.
But Johnson also did two more things in support of his design so that by the 1930s The Cube was produced by the thousands. First, he acquired many manufacturing licensees which led to The Cube's use on transatlantic ocean liners, national railways and in major hotels and restaurants. (It fit right in with their Art Deco decor, too.)  Second, he advertised on many levels, to retailers, to commercial users and to the housewife, both in Britain and America.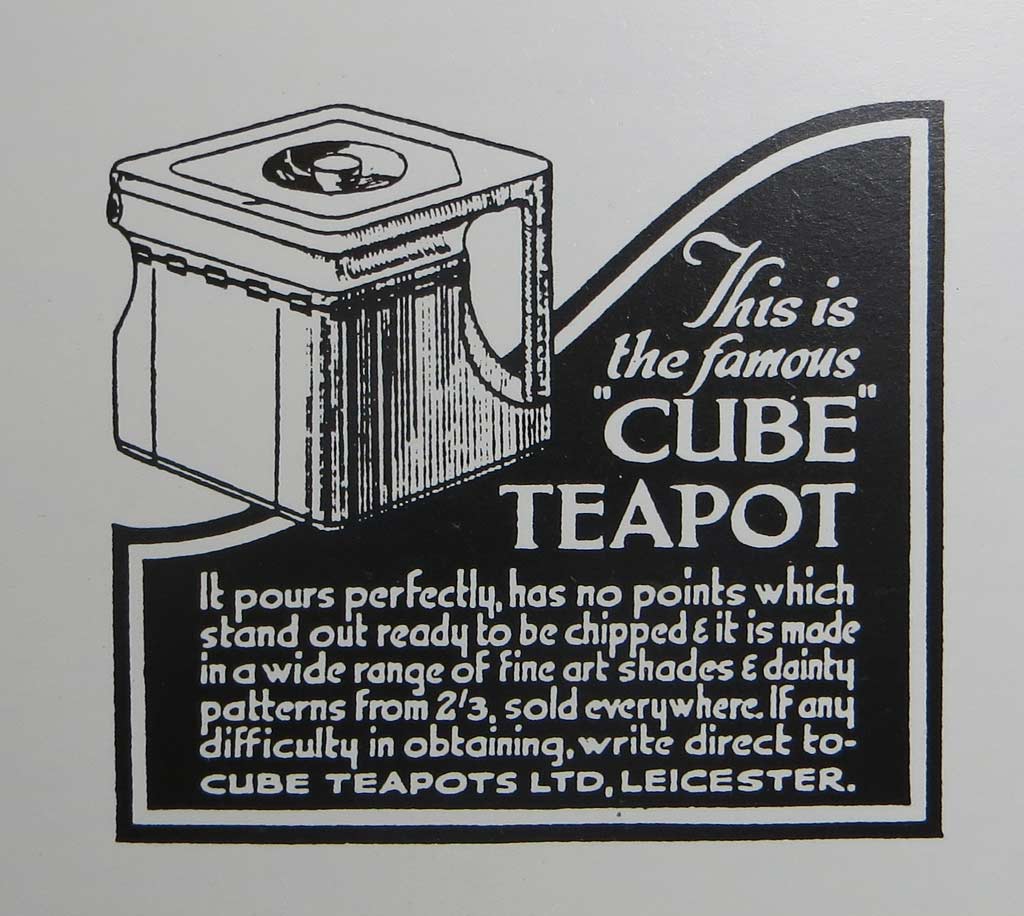 Besides the teapot, there were Cube sugars and creamers, tall jugs, pitchers, plates, saucers and cups. An aficionado could choose among "Early Morning" sets,  Picnic Sets, metal "Camp Outfits," and elegant silver-plated, cane-handled services. While plain white was used on ocean liners such as the Queen Mary and the Queen Elizabeth, there were all manner of colors and patterns of The Cube Teaware to choose from. My Plain Green version, perhaps a bit mousey, is a treasure.
Cube-ware was used shipboard until the 1980s and even now retains a unique vintage functional design caché among collectors, its cute little snubnose and all. Pretty good for century-old inside the box problem-solving.
–Liz Crain, who planned this look at The Cube Teapot to be a lead-in to a fuller discussion on all manner of pouring spout design advice, some from improbable sources. That's coming up in a couple of weeks. Spring Break!