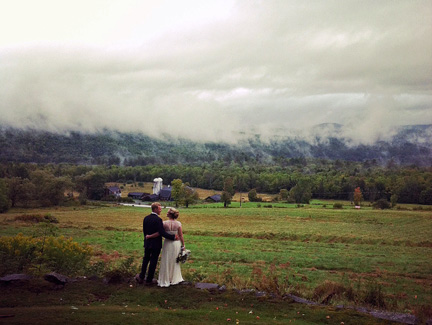 The kilns have been cold for over a month now. The studio barely opened.
There were life-changing events beyond my creative corner to prepare for and hasten to! They involved traveling to New Hampshire and dressing up. They involved meeting a bunch of  folks, new and old,  eating occasions aplenty, fascinating new sights, and tears of joy.
And dancing. Lots of dancing!
My older son Roger married his dream girl Cassandra on Lover's Lane in the White Mountains, amid emerald open spaces, trees just beginning to tinge, mountain views and emotional mists.
I returned charged from the good effects of travel alone, but noticeably juicier and with a certain ratification of the rightness of my life.
-Liz Crain, who plans to run madly off in all directions with this ratification for as long as she can.