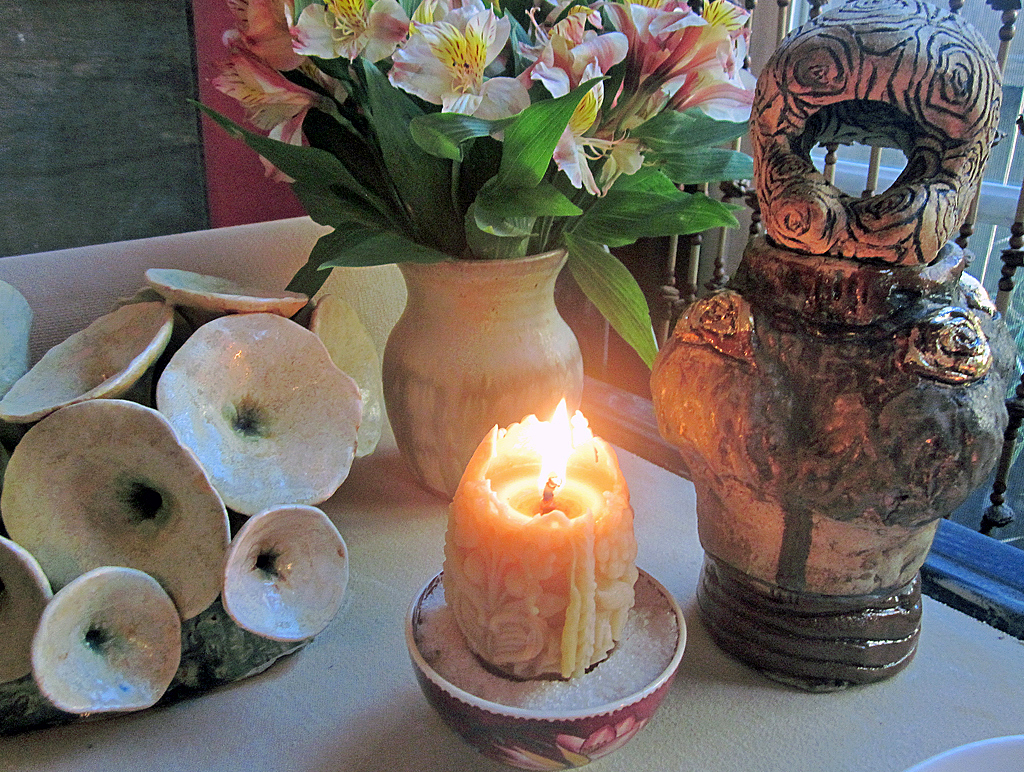 For a few years now, somewhere in December,  I hold a little private ceremony in my studio. It lasts maybe 20 minutes and has no real agenda except for me to pay attention and respond to what I feel. (I'm somewhat allergic to prescribed rituals of any sort.)
I clean the space up a bit beforehand, nothing major. I settle in some special objects: flowers, candles, something aromatic for the air, a ceramic piece or two, a bit of fruit, a shot of herbal bitters.
Beforehand, I craft a list of studio happenings since the last clearing, another list of what I want to release, and a third list of what I want to attract. Sometimes I have images to go with. It is all very organic and sourced from inner knowing and truth, no mistakes are possible.
This year I added a specific piece of music, The Lark Ascending by Vaughn Williams, as there were more vital things to release than usual, and I was glad I did.

When I'm ready, I light the candles, start the music and…then I find out what I do next. It means taking in and honoring the space, the moment, the lists, the images, the smells, the music, attentively and purposefully.
Like I said, there were some powerful items to let go of and I found physical representations of them to transform, so I spent some time on that.
When I feel done, I eat the fruit (this year it was a bosc pear) and knock back a shot of the bitters (a homemade batch aptly named "In Bloom.")
The music ends and I blow out the candles, happily launched into the next round of creative awesomeness in my personal space.
—Liz Crain, who every year gets a little closer to understanding how the added elements of grace, personal rhythm, and, yes, even rituals feed her artistic soul.
Additional note: For the time being I have sadly had to discontinue Comments to my posts. Too much dreadful spamming, peppered with small and annoying hackings! I have taken all the updating and firewalling steps I've been advised of and I hope to reinstate them soon. Your Comments are Manna to me in the wildness of the internets! If you came here from a Facebook link, by all means leave a comment before you leave my  FB post. If you subscribe or just found me however, you may email me at lizcrainclay@gmail.com    Thanks for stopping by.