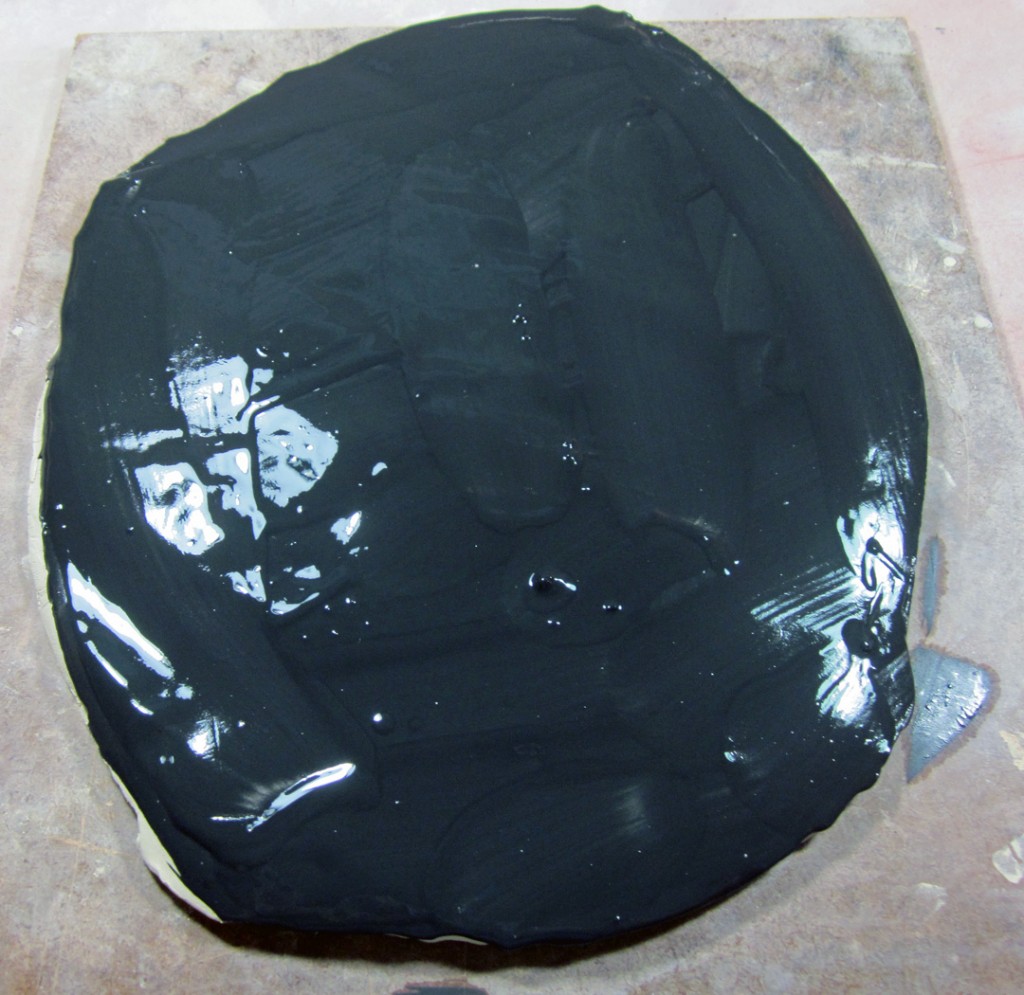 Sometimes an activity you encounter meshes with your essence and you melt away into it. A friend explains the basic golf swing and just like that you're sailing the ball 350 yards at the driving range and they're saying, "It's not supposed to be that easy!"
You find your bliss in the swimming pool, the computer lab, a knitting circle: all wonderful fascinations.  You sync with what you already know and scaffold from there, unstoppable in your  heedless avidity.
It's precisely what happened after I spent a Saturday early last November at the Richmond Art Center with ceramics maven Lana Wilson as she demonstrated her method for coloring and collaging clay slabs and then making stuff out of them. It's fresh and fabulous and lets the clay be clay and me be me.
When I returned to my studio and fooled around, working from my woefully unreadable notes and her handout, I was simultaneously back in Ceramics 101 trying to wrangle wet-out-of-the-bag clay and was also thrust forward into the freshest color and design possibilities I've seen in years. It was unadulterated infatuation and I could not stop my hands.
A bag and a half of clay later (37.5 pounds!) I've come up for air. Wow.
This method is clearly about staying in the moment. Loosely intentional. Intentionally loose. Don't be fooled, though, it's not necessarily easy. Even though Lana calls herself "The Queen of Low Standards, " I will explain why that's a canny ruse in the Part Two post. In the meanwhile, Part One will cover the slab-making.
The Black Side
Take a bag of clay  -a white clay is used here, but there are no rules, you get to decide what you like – slice off thick 1″ or so slabs from the long end and throw them down on your working surface sideways to stretch and thin them,  some or a lot, you decide. Or alternatively roll them out on the slab roller. Paint with 1-3 coats Black underglaze,  letting each coat get 'unshiny' before applying the next and brushing in alternating directions for evenness.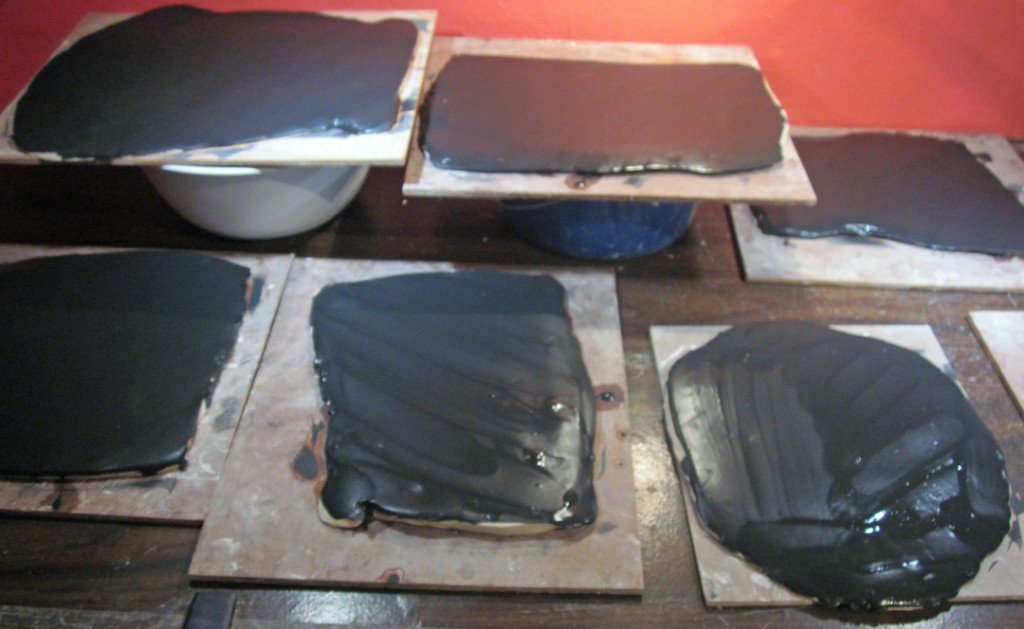 I need to tell you black is not required! Feel free to use any color(s) you enjoy!
When you've got enough coats and they've nearly dried, try a bunch o' textures. You know what you like. My favorite from this array was the squares/alligator roller tool (a tenderizer?) but all of them were pretty wonderful, because they retain their character when they're manipulated, which is coming.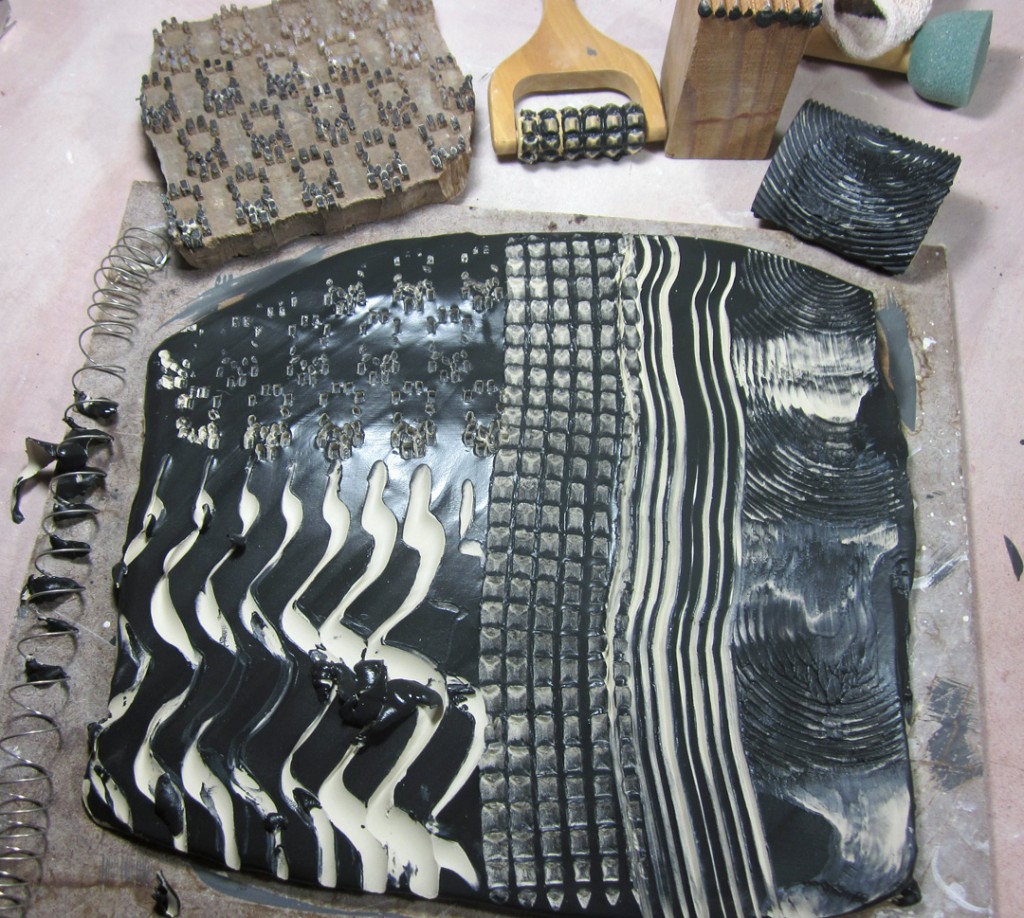 The Colors Side
When your Black Side has set up enough, (or even not…..random markings and unmarkings are most welcome) flip everything over and pick out some underglaze colors to play with.  One to three  coats again, maybe not all the same, depending on what you think you might do for patterning in the next step. You don't necessarily need to know anything about where you're headed, though. Adventures for everyone!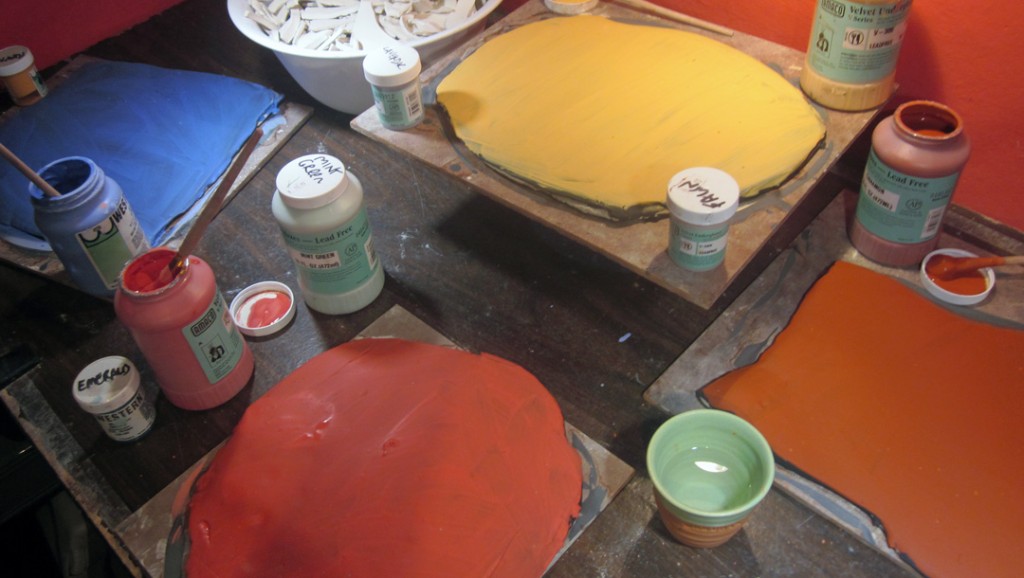 I want to speak to the Controlling Ceramics Perfectionists in the audience – and you KNOW who you are: this process is worth the price of being messy and unclear. (What you might think is evidence of Low Standards is actually a wicked plan for unexpected beauty.) There is no possible way to make a mistake here, so own it: goofs are in your head. You are officially freed from your need to get it right because there is no wrong. OK, end of message.
Now, add more colors, thickly or thinly, with or without patterns. Know that they will change mightily as you work, so you don't need to commit or invest or even pay exact attention. On this slab, I was playing with round, target-like circles and complementary colors, that's all.
You can also do more texturing and carving as in the black side….I just didn't here.
Tossing and Rolling
Yes, this is the same slab as the last photo! Gone are my precious quasi-intentional markings.  I threw it out more on the work surface, and it got abraded and messy, even a little more smeary than I expected. (My next batch of slabs was thinner to start with….so there was less smearing as I thinned them. Good to know.)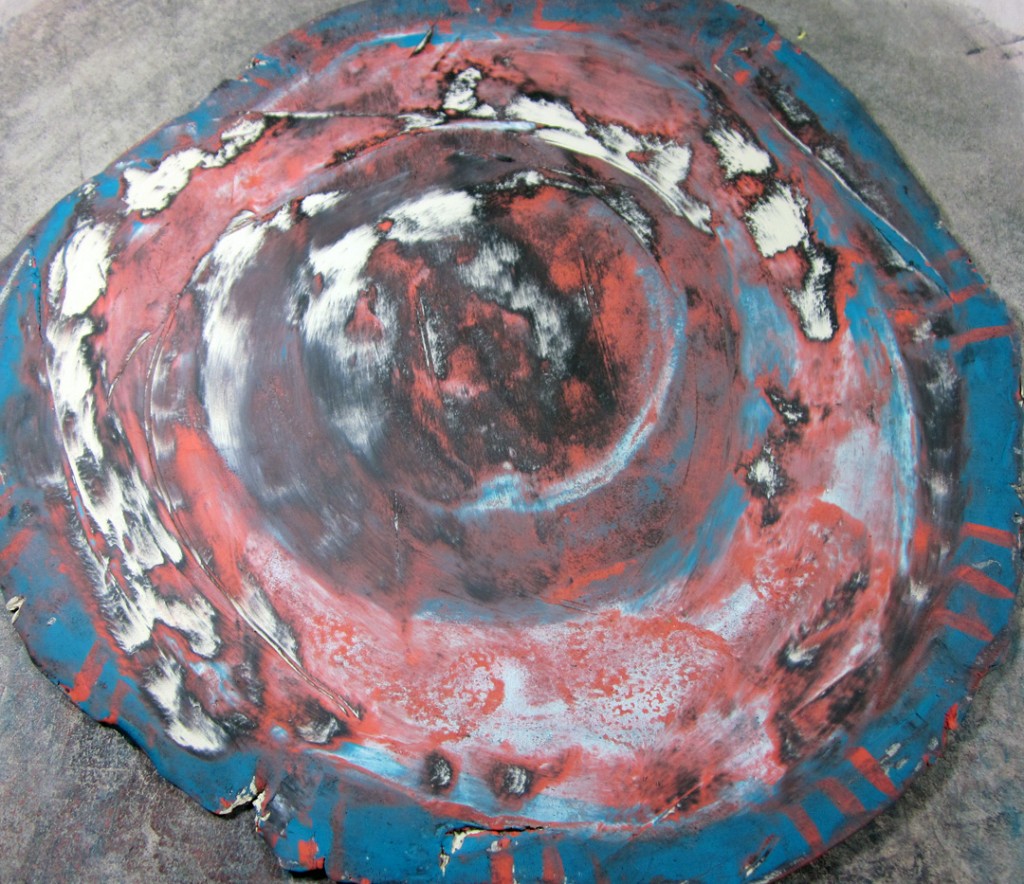 You also can use a rolling pin to thin your slab. Lana  used newspaper between roller and slab. I did a little and then did not. The transfer of colors with both the newspaper and roller is interesting. See what you come up with. You still are doing great.
Cutting and Recombining
Now it's time to cut the slab apart and  flip some of the pieces. Cut any old way…this just happens to be pizza wedges, because I'm a radial symmetry aficionado. Try stripes or puzzle pieces. Flip, overlap and roll together again, creating an entirely new collaged slab. The clay itself is still floppy wet and takes to this technique without any resistance. If it got a little dry, just brush each seam with clear water  before rolling.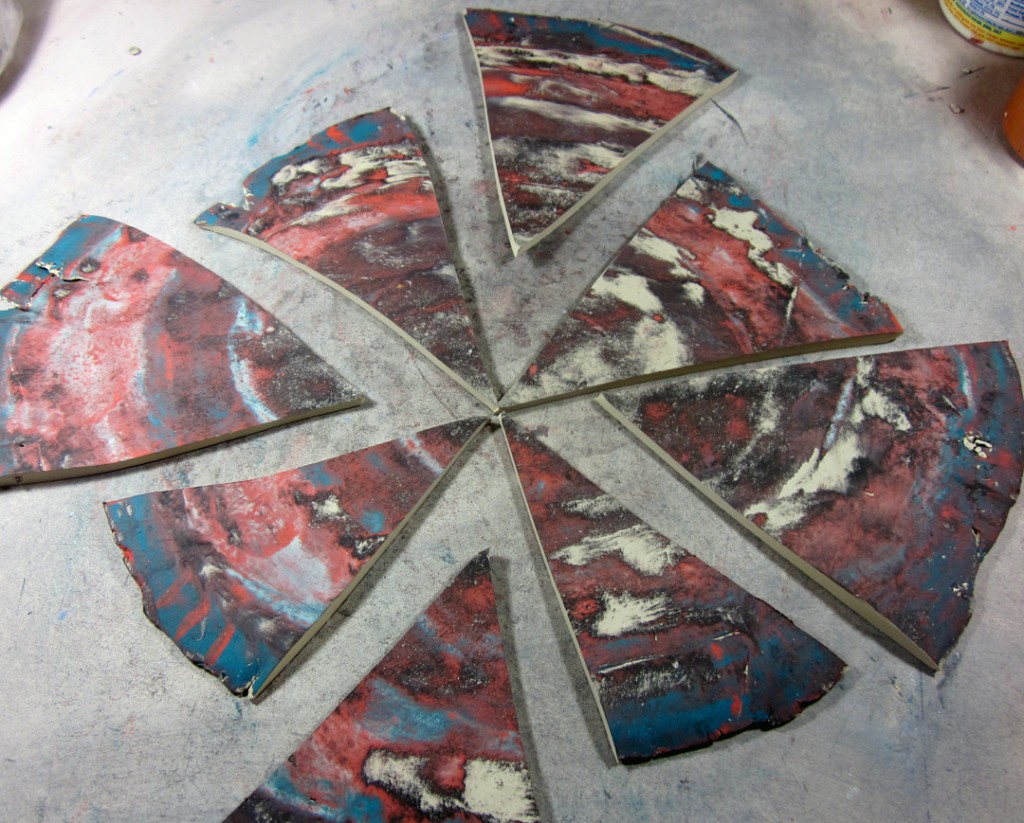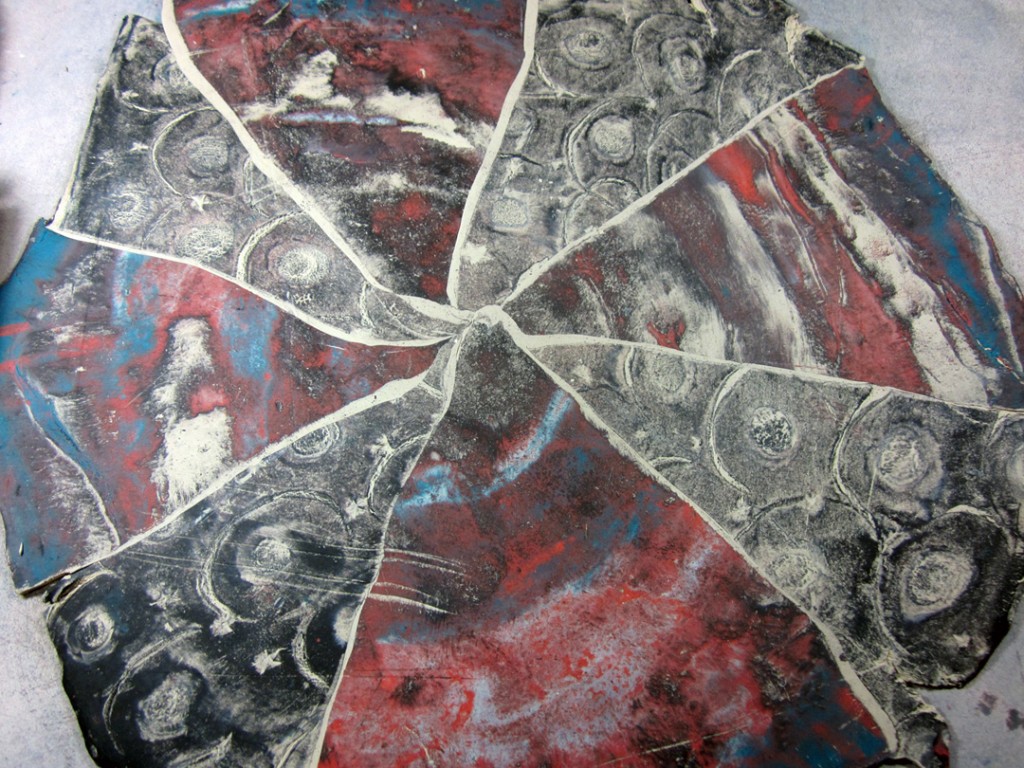 The parallel scratched looking area on the lower left is from inadvertent markings from my smaller roller and/or handling. if you don't want that, roll lightly.
Cutting and Recombining Again
You can stay with the above pizza-like slab, but you are also free to cut/tear and recombine at will. And it only gets better in my book. Here is a variant, including  thin twists rolled flat at a few of the seam areas. It makes the slab absolutely unique each and every time.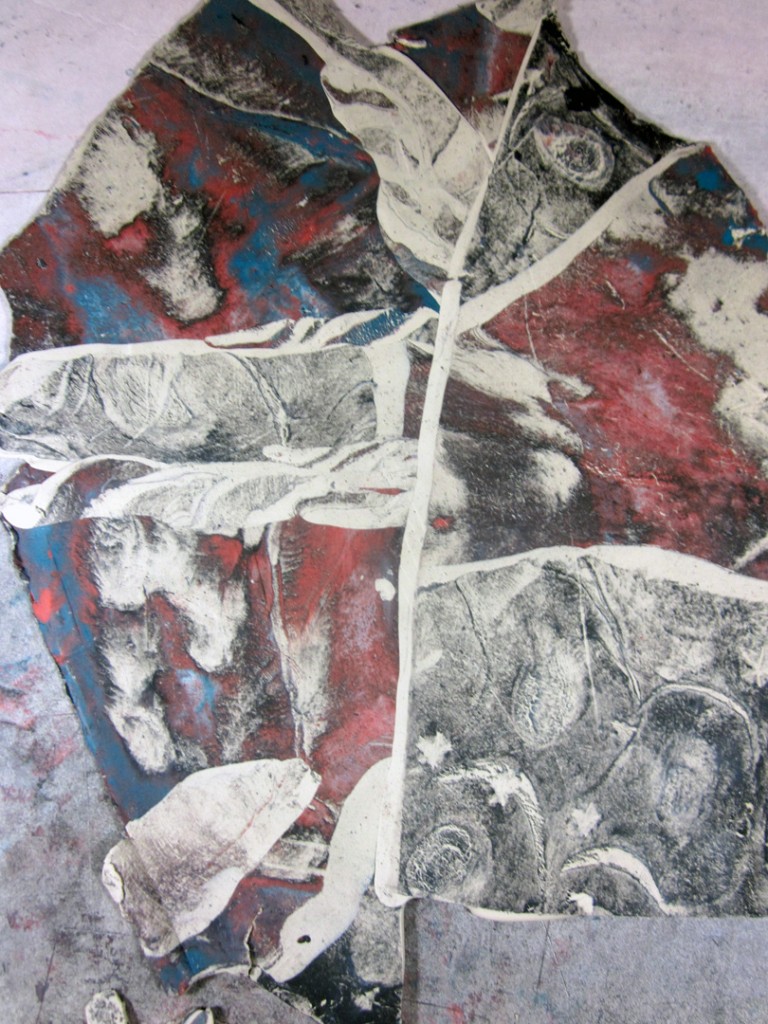 This is the first post about this process. Look for a second post on how to form work from these amazing slabs sometime after the new year!
~Liz Crain, who was as surprised as she could be about this new ceramics method and the freedom it afforded her to reinvent herself and her ceramic process, once again.