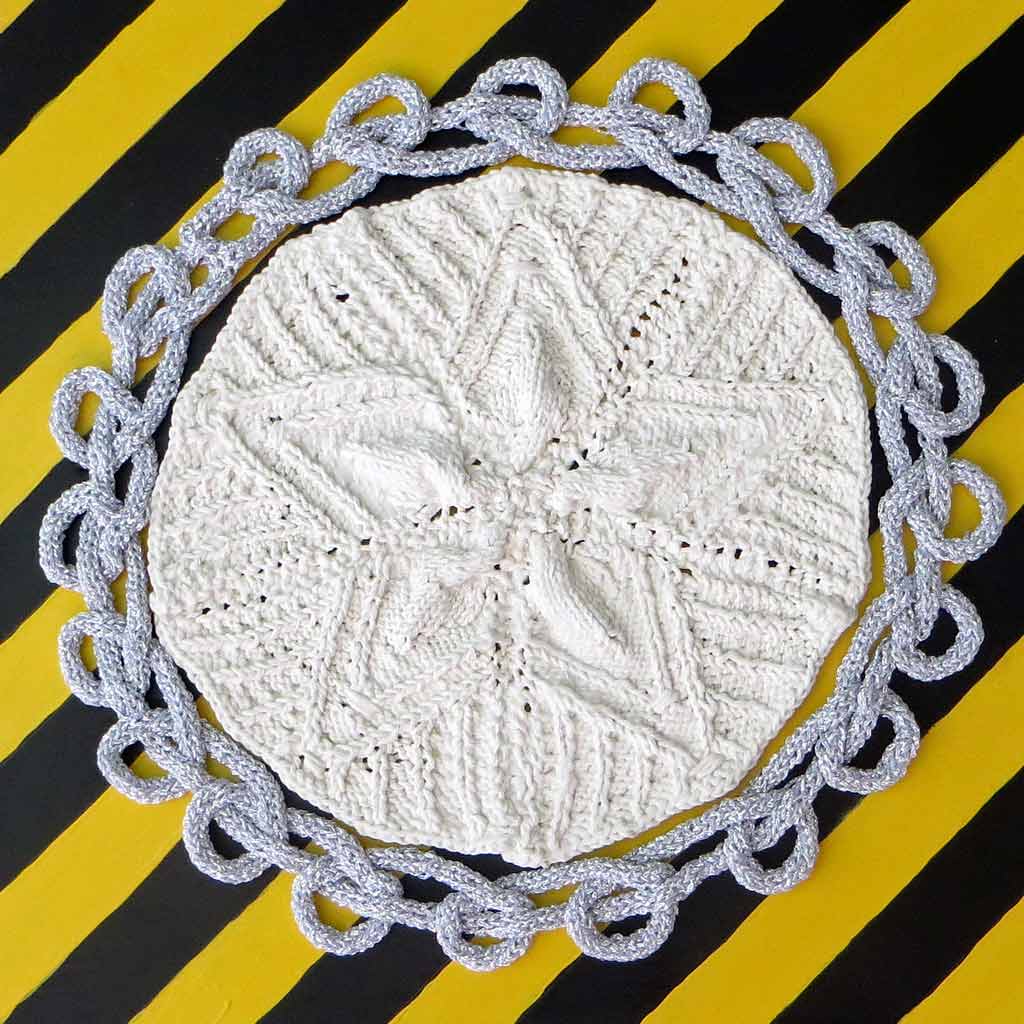 And with Summer comes the Festivals and Exhibits! There is definitely a cycle to making artwork and then sharing it with the world. And because my work has radically changed, I'd like to add to my last post with a peek at the newest pieces on display now in a few shows and the body of knitted porcelain work I am busily creating for Summer and Fall in-person exhibits.
Pajaro Valley Arts Member's Exhibit: "Mirrors"
First up is the wallpiece above, a mixed media affair composed of a knitted porcelain star-in-a-circle, surrounded by a looping knitted metallic cord frame, all mounted on a painted wooden 16″x 16″ support painted like caution stripes. Titled "Beware of Charisma Mirrors" it has an explanation attached to the back, too, because it's a great phrase for something pretty darn common. A Charisma Mirror is a person/entity who seems fabulous to us and in reality is not All That. One who purposely evades full disclosure and reflects back only our projected adoration and misinformed acclaim. Image. Celebrity. Spin. Narcissists. Flatterers. Users. Grifters. The little man behind the curtain of The Great Oz. We all know them, so beware of their shiny perfect stars! This exhibit is up in Watsonville, CA until the end of July. Details are here.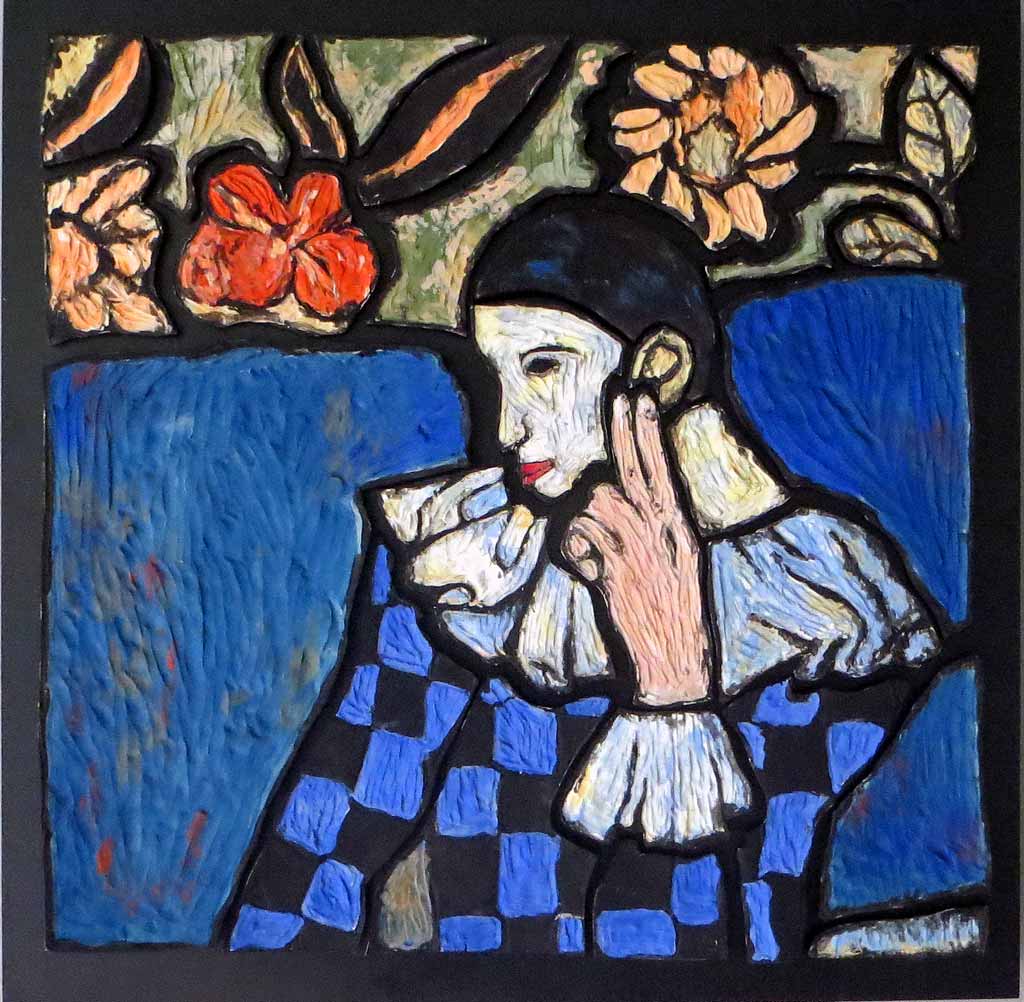 Masters of Santa Cruz: Picasso
This is the 4th Annual Masters of Santa Cruz Exhibit and it just gets better and better. Each year a group of us select an artist – sometimes a particular work, sometimes the whole oeuvre – and make an artistic interpretation specially for this show. We've done Leonardo, Grant, Diego and now Pablo. My choice was hard, because Picasso experimented with ceramics and I initially wanted to riff on that. In the end I decided his ceramics were too funky and went with this detail from a piece from his Blue Period – and a harlequin to boot! It's formed from a single clay slab cut into jigsaw tiles, which were covered with black underglaze and carved, then painted in more underglazes to capture the lovely pensiveness and the strong colors, especially those blues. It was assembled and mounted on a painted wooden support. This Exhibit hangs at Stockwell Cellars Tasting Room in Santa Cruz and is also up until the end of July. Details for that are here too.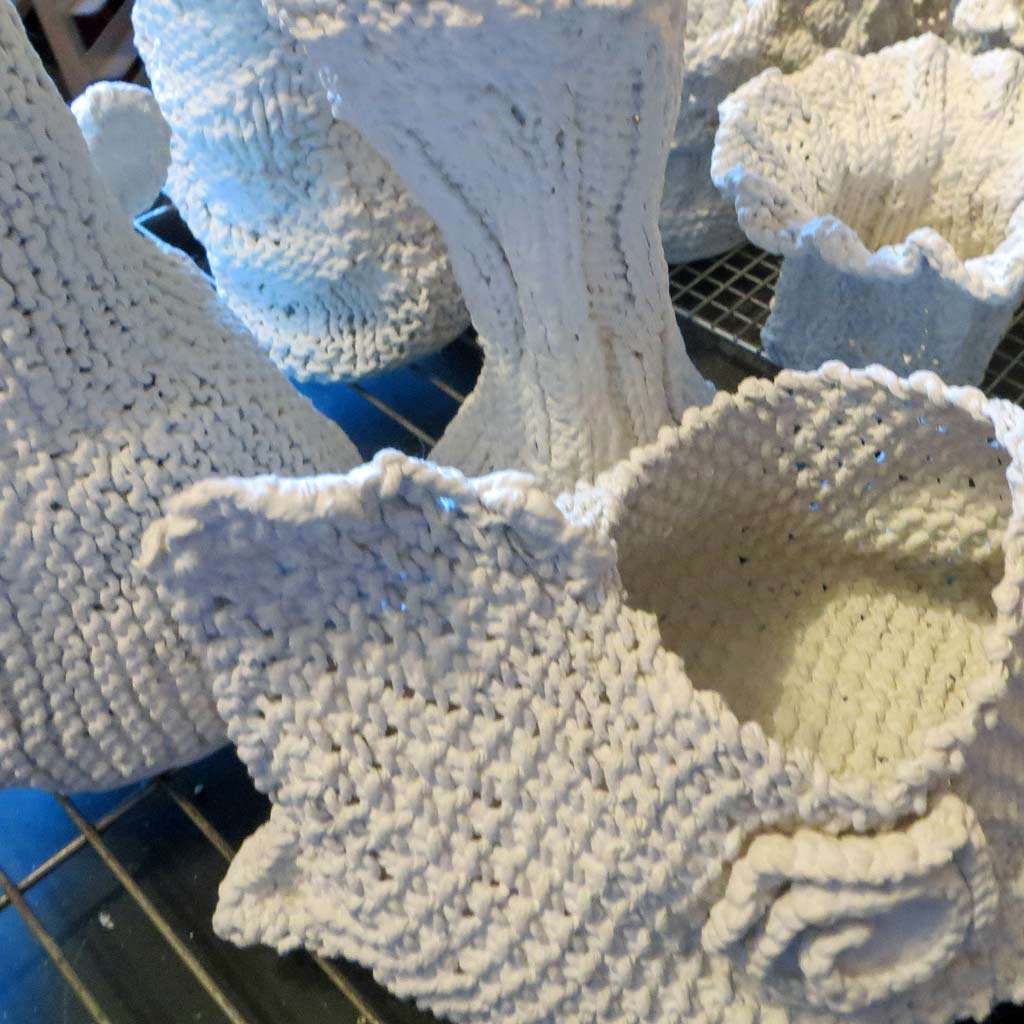 ACGA Palo Alto Clay and Glass Festival and Santa Cruz County Open Studios
Next up are the in-person Festivals and Open Studios Art Tours where I will be sharing booths-ful & gallerys-ful of my latest knitted porcelain work. I am busy knitting and dunking and drying and firing, and as of this writing, only a smattering of it is done. (See the previous post in this Studio Journal for my broad experimentations.) After trying all sorts of approaches, I've narrowed it down to a First Edition rendered in pure porcelain. It shows off the stitchery like nothing else! I've additionally figured out that a tealight inside takes advantage of porcelain's fabulous translucency, along with those knitted textures themselves. Other options for these vessels (besides setting them on a pedestal in brilliant gallery lighting) are tucking in an air plant, one or more of my knitted yarn flowers, or perhaps a tussy mussy of dried or fresh flowers in a glass insert vase-let. Candies would be fun… My days are full of ideas and of cranking them out! And, yes, details for these two events, Palo Alto in mid-July and Open Studios in mid-October are here as well. Come see me!
—Liz Crain, who thinks deadlines are scary good.