Here is the changing array of Exhibits, Festivals, Studio Tours,  Fundraisers, Gallery Shows and Pop-Up Venues where you may find my work, and sometimes me with it!
Current Events
Derik Van Beers has provided a sweet spot in Oakland's Art District for ceramics for quite awhile now. He offers world-class monthly solo shows in the front section of his studio space as well as in his Small Works Case in the hallway of a conglomerate of art galleries in the same building. My work is has been in the case for several years now. Take yourself out to a lively art scene and check it out!. There's a map to the Saturday Art Walk with lovely nearby eateries and, er, drinkeries.
473 25th St. Suite 5, Oakland, CA 94612
415-515-3174
Upcoming Events
January 17 to February 23, 2020
It's my first year as a member of the Santa Cruz Art League (at least in this decade) and I aim to find something wonderful to put into their annual Member's Exhibit, which is always broken into two shows, so I'm in the A-L show, first up in the new year.
More about my piece when I decide what it is…
526 Broadway Santa Cruz CA
831-426-5787
January 22 - March 8, 2020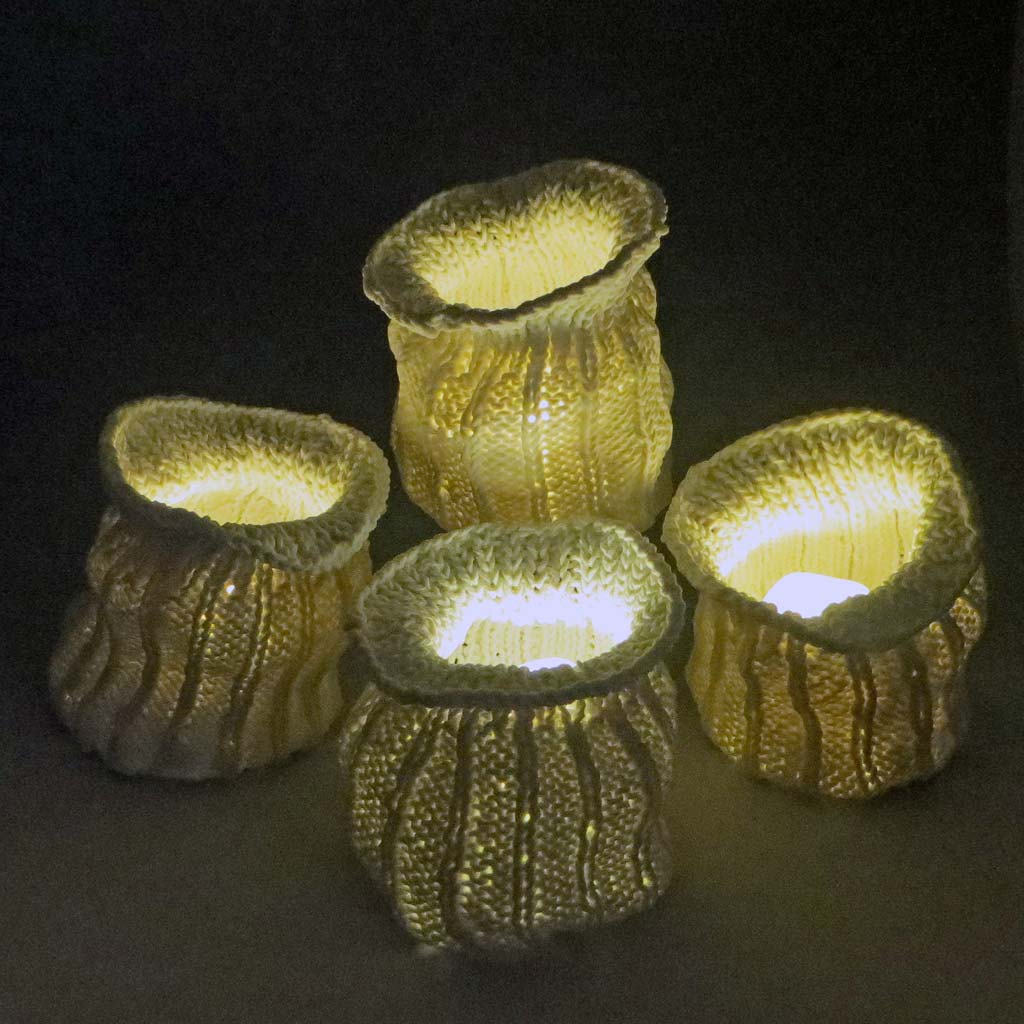 Early every year the Pajaro Valley Arts Gallery holds an amazing fundraising exhibit they call Take Aways Art to Go!. It's called that because when one buys a piece of art, one can take it away right then – and not have to wait 'til the end of the exhibit.
This invitational features the work of around 50-60 artists, which is replenished as it is sold, so the exhibit stays interesting it's whole run. There is also a silent raffle for some special works, where tickets are bought and placed in the boxes next to each piece and the winners are pulled at the lively closing reception.
This will be my 4th year participating in Take Aways and the rhythm I have fallen into includes creating a special body of work specifically for this show. I like to align with the ideas of Spring and Love and Precious Gifts. This year I'm offering knitted porcelain vases with knitted yarn dandelion balls, a group of crocheted fancy chocolates each sitting in a lacy knitted porcelain cup and a group of knitted porcelain bags and cups, each with a tealight for wonderful delights after dark.
Pajaro Valley Arts Gallery
37 Sudden Street, Watsonville, CA 95076
831-722-3062