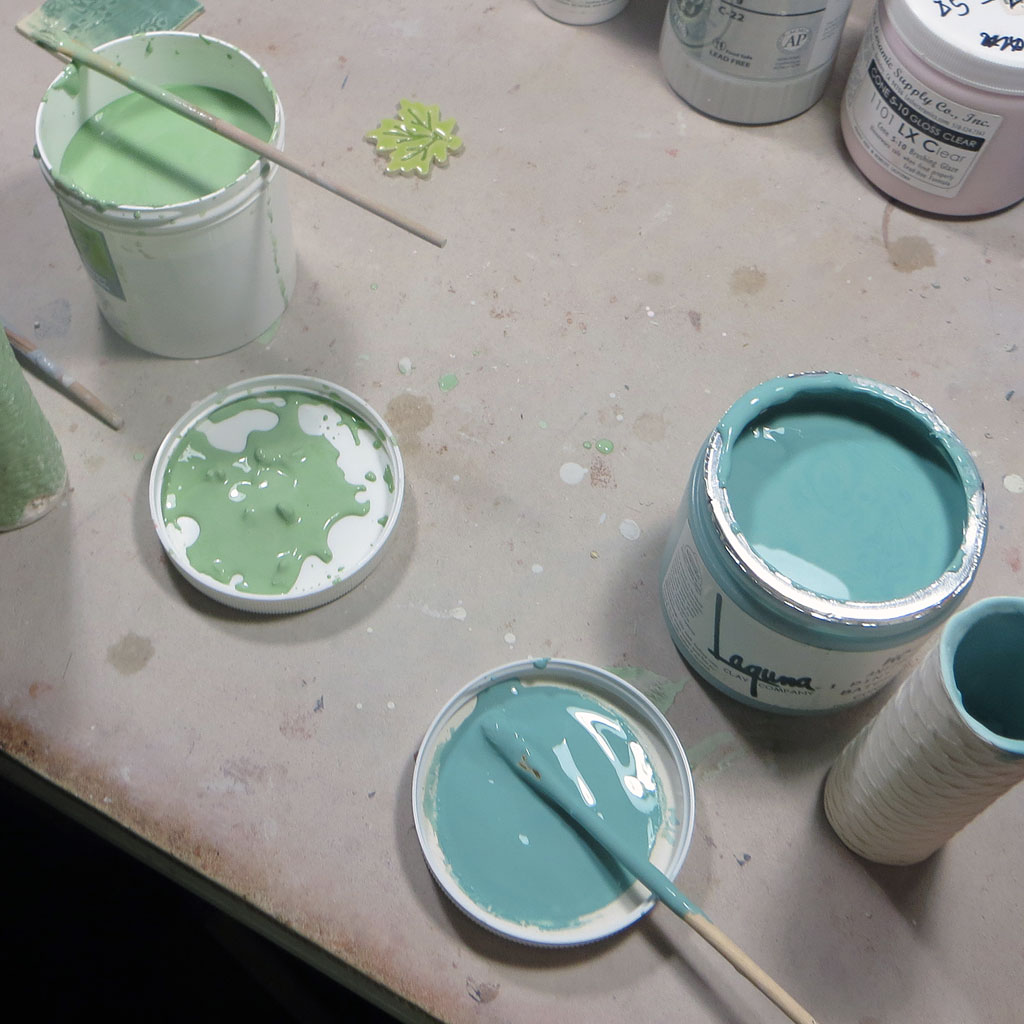 File this in the How-To Category. Specifically, "How to Do an Easy, No Paper or Smart Phone Needed, Foolproof End-run Around Your Faltering Memory When It Comes to Being Certain of the Answer to the Question 'How Many Glaze Coats Have I Brushed On So Far?' and Other Mnemonic Devices."
Whether it's due to deteriorating brain juices, short-term memory overload, or just my habit of serial-tasking while I wait for coats of glaze or underglaze to dry, it's dead certain I require assistance keeping count of them. (You all recall that brush-decorated ceramic works usually need several coats for even coverage, right?)  And Mnemosyne help me if I'm working on several pieces concurrently, because after that first layer goes on, it's generally hard to see where one has left off. More pieces just multiply the problem, which is most unfortunate because dis-remembering basic stuff like that invites Unwanted Results.
I don't quite recall, was that three coats or only two? Well, to tell you the truth, in all this excitement, I kinda lost track myself.
I don't mean to forget. I always mean to write the count down on a sticky note, or put it on my phone. I earnestly tell myself I will keep it in mind this time, I will! And have to laugh ruefully when I realize the sad recurring truth is I just can't do it.  Unsurprisingly, those unwritten tick marks and unrealized intentions have failed me artistically as well.
And then, one fine day, a damn-near automatic mnemonic device revealed itself, and I want to share it with you, so you, too, can use your neuron pathways for better things. It's a seamless way to keep count because it happens insensibly in the course of working. And it's purely visual: no paper, screen or mind's eye needed.
The whole method is contained in the above photo. Hint:  It's the specific placement of the brush when I set it down between coats and it goes like this:
If the brush is in the upturned lid of the open container the piece has either: NO coats – which is helpfully also visible, even to me –  or ONE coat.

If the brush is on the mouth of the open container the piece has: TWO coats.

If the brush is freshly washed and the container is closed the piece has: THREE coats and moves to a different tray for touch-up, clean-up and firing.
It's just one tiny annoying problem solved for now, but its resolution both affects and represents the whole creative process and carries much dignity. Think of the I Ching Hexagram 62: "Preponderance of the Small" which speaks to honoring the timing and scope of one's efforts. Not everyday can be Saturday. Not every efficiency adjustment needs to be an overhaul. As it turns out, while there are many ways to make Grand Improvements, there are thousands upon thousands of ways to make small ones.
I have heard these sorts of snags – the stuff you mean to correct or improve and just don't quite get around to, whether it's a squeaky door or an imprecise studio practice – called "tolerations." Basically they're all the niggling things that chip away at total creative bliss, like so many biting gnats and it's important to keep swatting and not to settle.
The Score: Liz -1,  Gnats – down a team member.
–Liz Crain, who thanks her lucky Muses and their Mother for the opportunity to be curious, to create, and to keep evolving, AND for the ability to learn ways not to forget.