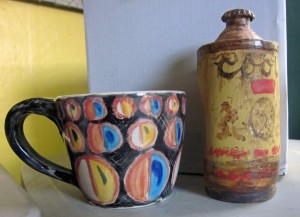 I have a fabulous Artist's Talk and Demo at Cabrillo College Ceramics planned.  Got my talking points, props and handouts in line. Have some great Segment Titles, such as "Failures of Concept and Skill," a couple of which are shown in the photo.
Even so, I expect my earnestly laid plans to veer off-road – and I truly hope they do!
What I have now is theory. Tomorrow blends in the wild cards of time, place, people, and me on semi- stun. A Full Catastrophe. Bring it.
Because the topic is "Mistakes and Making Them Right,"  I figure whatever happens in the moment is Just Fine. The Best Yet.
–Liz Crain, who is ready and willing and planning on a good night's sleep.