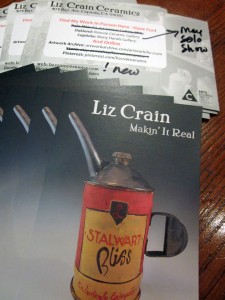 One of the topics the Cabrillo Mud Heads Ceramics Club members requested I talk about this coming Friday was my experience transitioning from a ceramic student to a career ceramic artist. I have plenty to say on that subject, especially as it pertains to the general arc of Mistakes and Making Them Right.
Case in point: ordering too many thousands of postcards for Open Studios in 2013.
Then getting real smart and customizing them with a sticker for subsequent sales events.
And applying even another more general sticker over THAT one.
So now, to bring it into present times, I am using it as an example in my talk: adding shamelessly hand-drawn corrections and additions to boot.
–Liz Crain, who still finds herself "transitioning" but is more than willing to talk about it. It's a good thing!