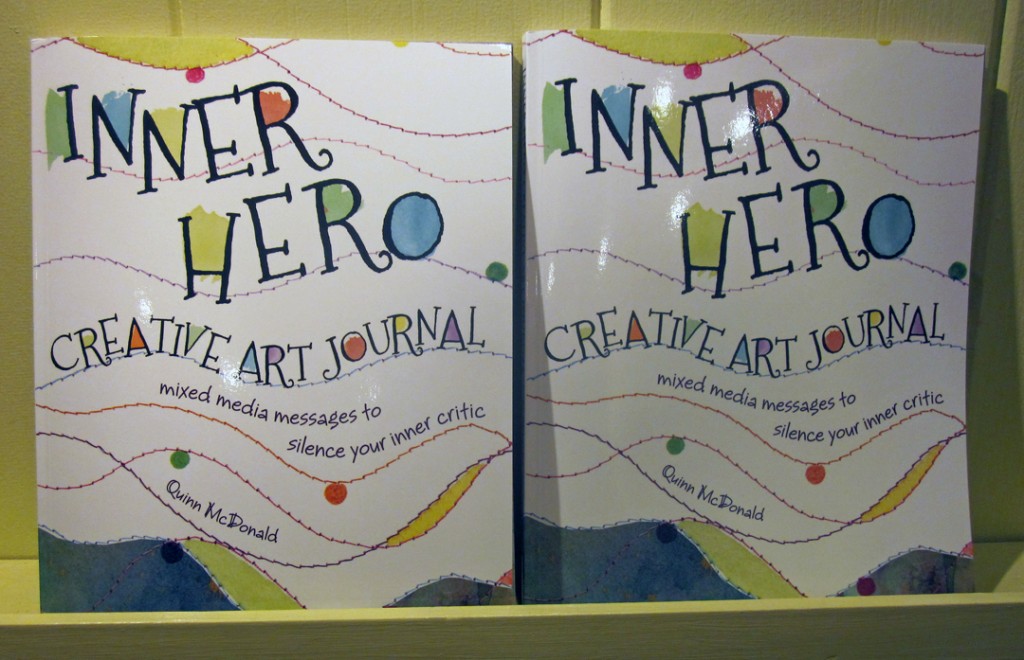 This post – my first official book review and giveaway –  is both an indirect and direct result of the book pictured above: Inner Hero Creative Art Journal: Mixed Media Messages to Silence Your Inner Critic, the second book by certified creativity coach Quinn McDonald.
I'll break it down:
Indirectly:
I follow her blog, QuinnCreative  and appreciate her truthful, sometimes pointed, often profound writing.
I am a fan of Quinn's first book, Raw Art Journaling: Making Meaning, Making Art, because of its freeing "Create Imperfectly" guidance.
I have personally worked with Quinn, an insightful, empathic creativity coach. She gives homework.  In one of our phone conversations I was grousing about the clay not letting me do what I was attempting, feeling both thwarted and flummoxed and in need of a different perspective. She kindly admonished me: "You go right back in your studio and apologize to that clay!" I did and it helped me move past my misunderstanding.  I still apologize whenever I recognize I am getting bossy with my materials.
I enjoy and admire Quinn and support all of her efforts: books, writing, workshops.  I look forward to whatever she will manifest next.
Directly:
I am a proud Artist Contributor to the Inner Hero book, and that is why I have two copies to give away, Dear Readers. (Details at the end of the post.)
I worked from the advance description of the book's scope in order to make and write about my artwork in the ways Quinn requested.  I needed to describe and name my Inner Critic (Scylla, a meanie of mythic proportions, but then aren't they all?) I also needed to ID and write a description of an Inner Hero of mine. I chose The Synthesist, who I named Maya. With her help, I am able to combine disparate elements and forge anew.
My small part of this book was completed over a year ago, so as I read the finished work, I appreciate the depths to which Quinn takes her concepts.  We have many Inner Heroes, she explains, and we may call upon any and all of them, depending on the particular vulnerability our Inner Critic is harping on. Quinn spends several chapters – the heart of the book, really –   describing art-making and writing practices for creating "mixed media messages." Make them utterly personal, she advises.
And, here's the lasting genius: All does not end with those personalized exercises. Your art and writing create an interactive tarot deck of personal Inner Hero cards to consult.  Ignoring or abolishing our Inner Critic probably is not possible, so what about an ongoing a dialogue? Sometimes that Inner Critic is telling a truth we need to know,  but not in a way we can comfortably accept. The enjoyable methods the Inner Hero offers help us develop ways to interact and work with the darker side of our creative selves. As Quinn writes, "Your journal, writing, art, wisdom and creativity all come together."
Perfect case in point: I consulted my Inner Hero Deck to write this blog post. I felt I needed to write perfectly  and that meant Scylla was entering in her finest Perfectionist Robes and Headdress. I grabbed my Inner Hero Scribe card.
We worked it out.
Here's How to Enter the Inner Hero Giveaway Drawing: Leave a comment on this post by Tuesday March 25 saying you'd like to receive a copy of this book!  Feel free to say why as well. The next day, March 26, I will randomly pick two Commentors and announce it in the Comments as well.  I will include my email address and ask the winners to send me their snail mail address.  I will send the books  –  postage paid by me – as soon after that as I can.  Bon Chance, let the Good Comments Roll!
–Liz Crain, who believes it was Katharine Hepburn who said that if one did not engage with one's fears  – often generated by that Inner Critic – one got soggy. Ew.