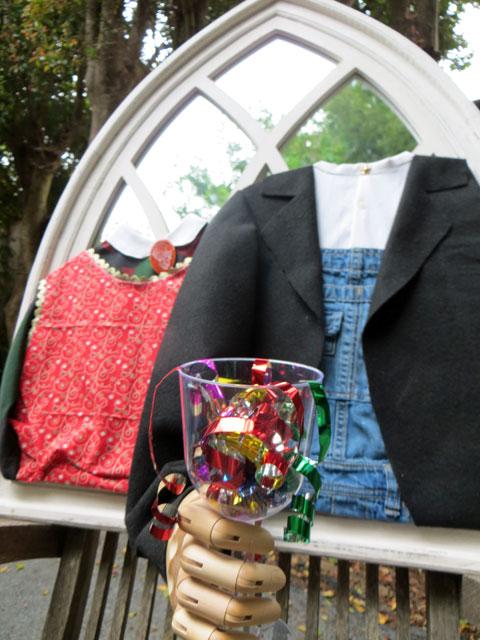 This is a "What I Did Over Summer Vacation" Report, with a focus on one work of art installed at one particular exhibit which needed weekly management every Friday for two months. The Exhibit was the second one organized by the open-ended local artist's group called Masters of Santa Cruz.  The idea is for each artist to take the same famous work of art, make a personal interpretation of it and then show all of them together at a local winery. Last year we riffed on the Mona Lisa; this year it was Grant Wood's "American Gothic." What follows is a photo essay of my response to the prompt.
Turns out, it's great fun to learn the history of a painting, study its form, content and meaning and then create a personal version.  For me, "American Gothic" wasn't so much about those two dour salt-of-the-earth people, but rather about that Gothic arched window in the house behind them (which was Wood's original inspiration as well), and also about what that farmer's hand could be holding besides a pitchfork. At first I thought I would make it entirely out of clay, but then the project took its own direction toward mixed-media assemblage, emphasis on the mixed.
I discovered a Gothic arch-shaped shabby chic mirror and the race was on. Next I decided to sew and collage the clothing, but to leave the heads off in favor of a possible reflection of the viewer. With the right angles and distance, a person could line themselves up and take a selfie, so I titled it "Gothic Reflections." As a point of ceramic pride, I did make the woman's cameo brooch out of ceramic materials, adding the delicious macabre touch of a skull profile in a white decal.
The other fascination for me was to make that clenched hand come alive, so I attached a wooden artist's articulated hand and covered it with the felt coat's sleeve extending off the surface of the mirror. Each week I switched out what the hand was holding, somewhat in keeping with the season. It was fun considering the unlimited possibilities and the logistics. Since the exhibit was at Stockwell Cellars, a local winery, I thought to begin and end with a wine glass. The first one – seen up top – is full of shiny plastic confetti.  Apparently I forgot to take a photo of it at the opening reception, so the first shot is of the completed piece mounted on a chair in my driveway. There still are confetti pieces out there glinting in the bushes, as they blew everywhere in the breeze.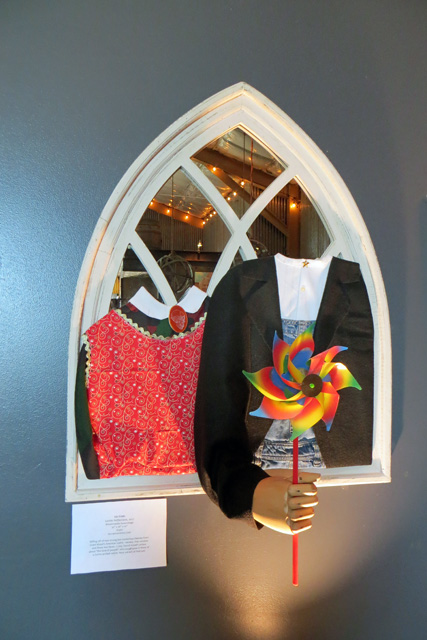 It was still early in June, but schools were beginning to let out and summer was a comin' on. I drove across town to the winery that first Friday, a week after the opening, wondering if the wine glass had hung on as I had used only a removable museum putty to tack it in place. It had, so I was greatly encouraged that the rest of my planned weekly installations would succeed. Next one: the joy and abandonment of a pinwheel, looking a little frivolous in the hands of very sober people. Yet, as a prop, it suggested a playful wryness and I hope it encouraged some mugging from the selfie-takers.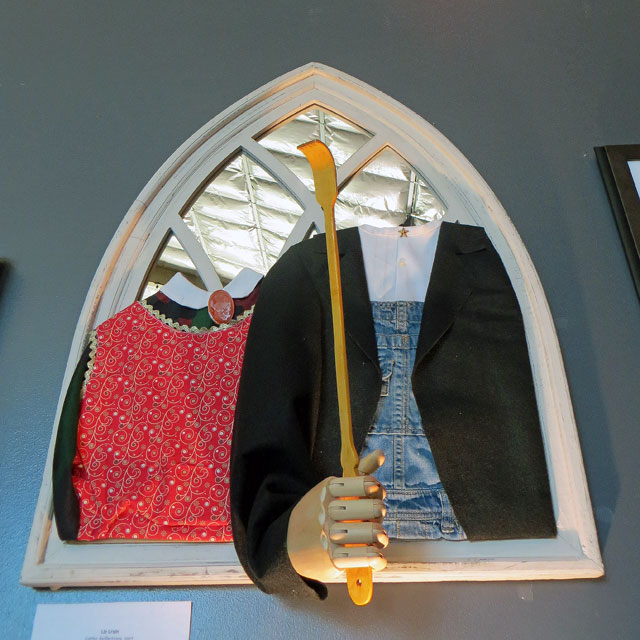 Third week came the backscratcher. I was imagining hammocks on Saturday afternoons and not much else. Laughin' and scratchin'.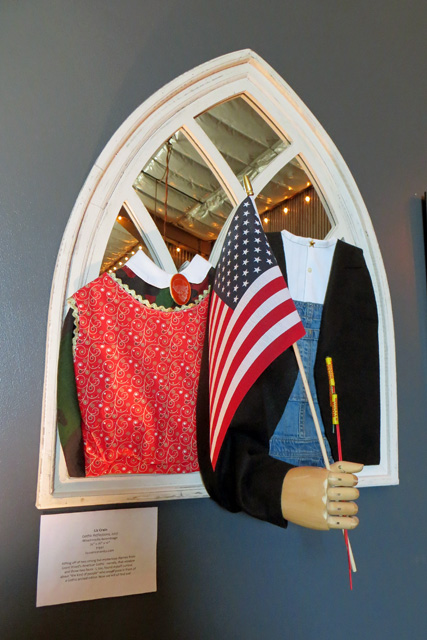 The week before the Fourth of July demanded not only a flag, but some illegal fireworks. Doing the American Freedom part up right.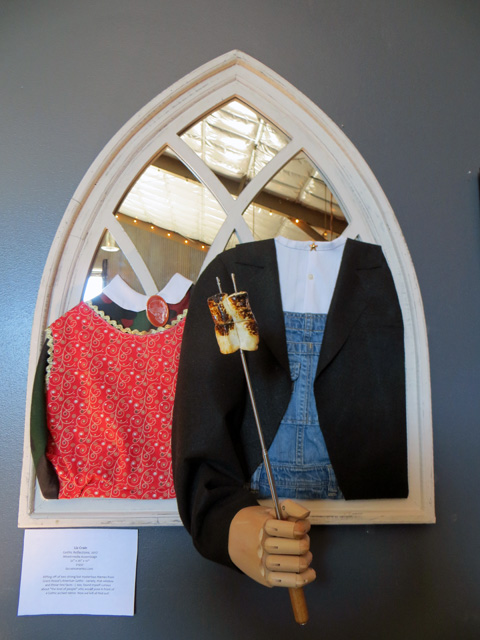 Now it's Summer's camping and cookout season. This installation needed some advance testing. We toasted up some real marshmallows a week beforehand and let them sit. In a day's time they got decidedly sticky-soggy. A couple of coats of clear acrylic sealant fixed that. Yum. Yum. This was also the heaviest and most precariously leveraged piece I put in "the hand" all summer and it was a headache to install. But it also held up. Whew.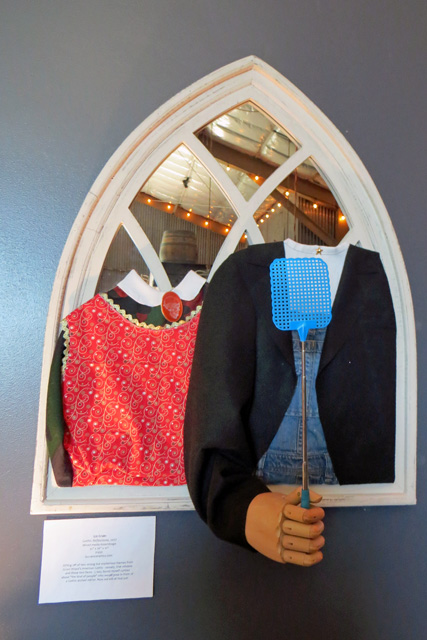 More hammock fantasies. This time swattin' bugs. I LOVE this extendable flyswatter and use it at home all the time now. The telescoping action helped me position the piece for best balance and visibility against the dark jacket.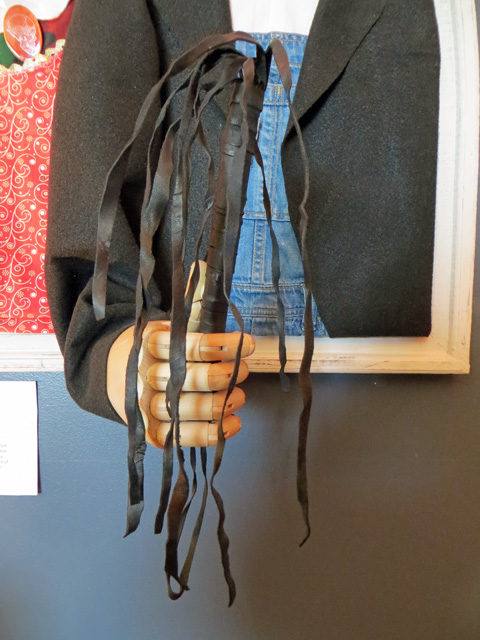 Now for some kinkiness. Hmmm. Grant Wood said he was intrigued by that Iowan farm house because of its "borrowed pretentiousness" and the "structural absurdity" of that Gothic window. He imagined what kind of people would live there and chose his sister and his dentist to pose. Once you take the types away, though,  anything is possible, especially with a cat o' nine tails.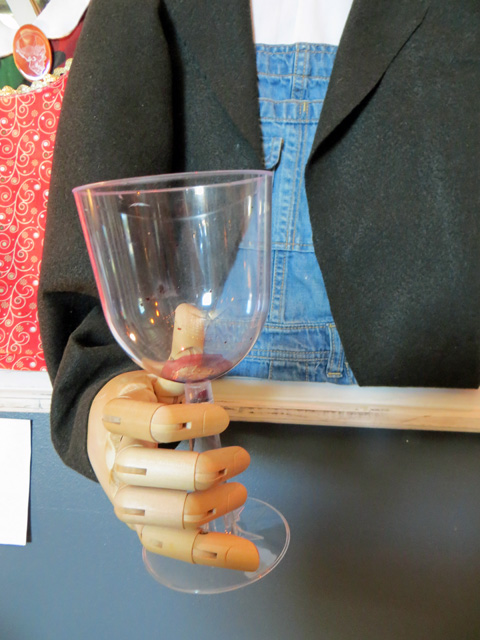 And back to the wine glass, this time empty with real dried red wine residue. The show's over, but it certainly called up some delicious Gothic Reflections for me.
–Liz Crain, who enjoyed her Friday afternoon crosstown jaunts in beach traffic listening to KKUP's Jewels and Binoculars Classical Show. After chatting with Jessica in the Tasting Room as she was changing out the prop, she explored the lively Westside businesses: including a gem of a yarn shop, a super bakery, a world-class coffee place, and a local natural foods store for road snacks. It's probably a good thing it's slightly effortful to get back over to that side of town, but it WAS a summer project to remember.