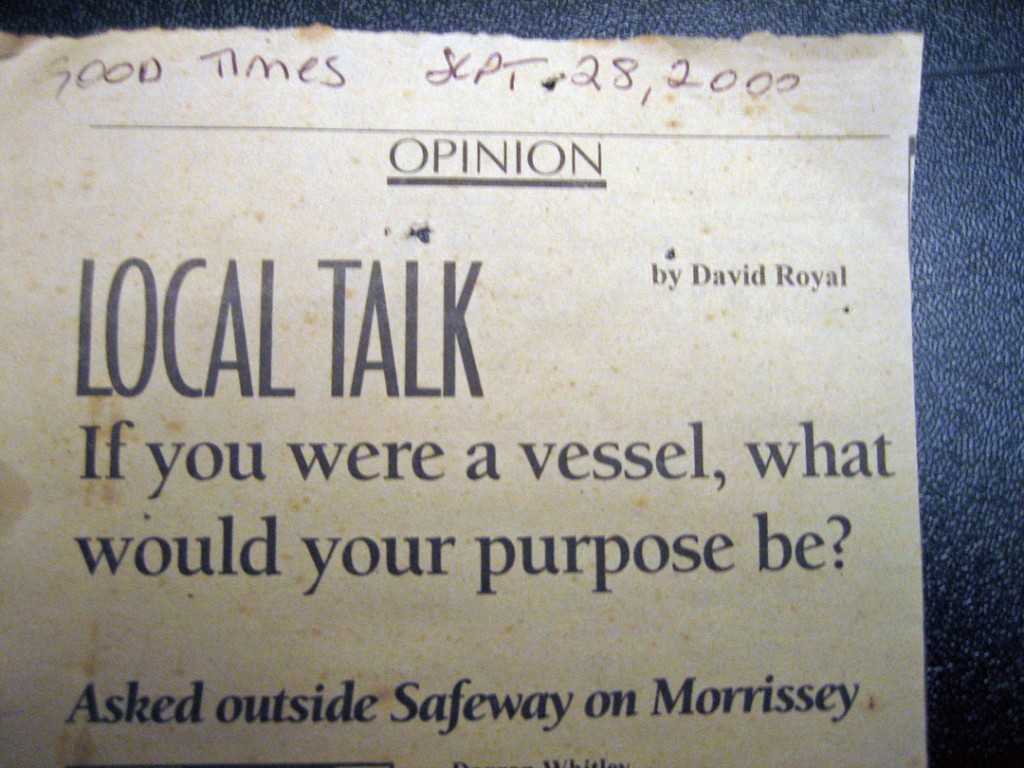 …What Would Your Purpose Be? Here's the header of the Santa Cruz Good Times Local Talk column that caught my eye ten years ago, tickled my imagination and never really left.
It is the direct inspirational source for my work of art, "Local Talkers 2009: One Face Jug a Week…." that I have blogged about a lot over the past year, including showing you all the finished version in last week's post. (Since then I learned that the piece has been accepted into the Cabrillo Gallery Exhibition entitled CAL IF OR NIA, an all media juried exhibition open to all California artists and curated by the Owner and the Director of San Francisco's venerable Braunstein/Quay Gallery, Ruth Braunstein and Shannon Trimble, respectively. It opens August 30 and runs through September 24, with the Opening Reception September 12 from 3-5PM on the campus of Cabrillo College in Aptos, CA. I am SO proud, please come see!)
But that's not what I came to talk about today. It was more about that question about being a vessel: a containing conveyance, carrier or conduit. That's what never left my mind and why I saved this column. I was astonished at the responses' variety: a ship, a blood vessel, a food bowl for the hungry, even a metaphoric container for religious views.
It never occurred to me to be anything BUT a ceramic vessel, probably a pitcher! It is just my ceramic artist's personal frame of reference to the word "vessel" which completely illustrates "the law of the instrument", that we tend to overuse the familiar tool, as in "If all you have is a hammer, everything looks like a nail." (An old saying attributed to Mark Twain and Abraham Maslow, and many others.) I like, too, the French concept of deformation professionelle which really nails it (pun intended…) "looking at things from the point of view of one's profession." C'est moi!
So this column expanded my thinking both by jolting me in the first moment I read it and then by seeping in deeply over the years as it has hung in my studio. It has become a vessel of its own, conveying me to expanded art horizons, both conceptually and actually, and I am forever a pitcher of sweetened gratitude because of it.