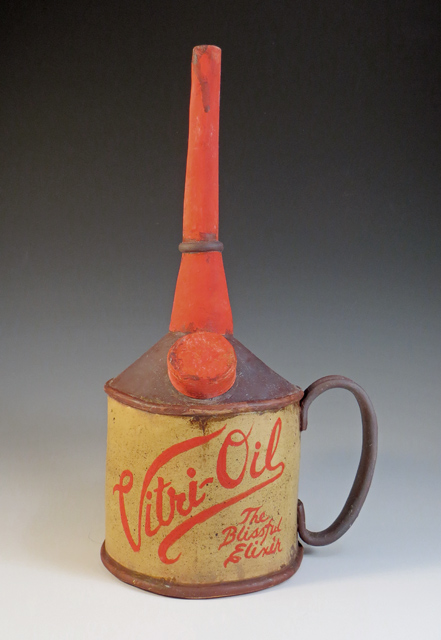 I recently wrote about this piece of mine –  the Vitri-Oil Tea Can – which arrived for an important exhibit with the handle broken in five places. If you want the full story of the original heartbreak, you can read about that and then come back here for a recitation of events and the exciting conclusion in annotated timeline form.
The Timeline of Curiosities
April 5:  Piece is packed by local UPS Store and shipped to Blue Line Gallery in Roseville, CA, about 200 miles NE of my studio.
April 11:  Piece is unpacked at gallery, determined to be broken, photographed along with packaging materials, repaired, set in show. Ten emails and four phone calls.
April  12:  UPS Claim process started. Four emails and two phone calls. Photos uploaded. Claim Number received.
April 13:  UPS Claims Rep arrives unannounced at Gallery to pick up damaged piece. WTF? Two emails and two phone calls. Piece stays put, to be picked up by Claims Rep at the end of May when exhibit closes.
April 15 – May 28:  Piece on display in America's Clay Fest IV, visible repairs, missing chunks and all. Calm prevails. No phone calls or emails.
May 29-30-31:  Piece to be picked up at Gallery by UPS Claims Rep, as per original agreement.
June 1:  Hearing nothing,  I call the gallery asking about pick-up status. Gallery said they packed piece back into original box and insisted their regular UPS Driver take it. He would get it to correct Claims Rep. Two more phone calls.
June 2:  Original box with piece delivered to my doorstep. Another WTF moment. Oh, I get it: the gallery used my pre-paid return label and the reluctant, hassled UPS Driver just shipped it as addressed. Three phone calls. I took this unexpected chance to open all the boxes, unwrap and examine my wounded warrior in person. Should I keep it instead? Maybe re-break and repair it invisibly? Or fashion a new handle, like I know I can? Naw. Let it go. Make a new one if you are so moved. Two phone calls. Repacked piece. Arranged for pick-up.
June 3:   Left box on porch, with a handwritten note taped to it, "Dear UPS Driver…"  It was gone when I returned from errands with a Damage Call Tag receipt left in its place.
June 7:  Box is delivered to my doorstep once again! I catch the driver in the act and calmly chat him up with the sad story. He was understandably confused. Not his wheelhouse. There were no other labels on the box for him to scan, they were all altered or partially removed. There was only the return label the gallery used, which is why it kept coming back to me like the cat in the song.  Driver stepped back to his truck to call his boss. Talked to me again. Talked to boss again. Which is when I determined to convince him to leave the box with me. He needed little persuasion and did so, muttering that he was now 20 minutes behind. I patted his arm and sincerely thanked him.
June 8:  Delivered box myself to local UPS Store. Met everyone there. They already knew my name, smiled and shook my hand! I explained the Saga So Far. They said leave it to them, they would contact Claims. I felt safe.
June 10:  Phone call to local UPS Store. They will contact Claims once more and hope to hear something on Monday.
June 13:  UPS Claims Rep misdials me, she meant to call local UPS Store. I take that as A Good Sign.
June 14:  Local UPS Store calls, saying the piece is getting inspected now.
June 15:  Local UPS Store calls to say Claim Was Approved. Hallelujah! Check is coming within five biz days. I am bringing them fancy treats when I pick it up.
–Liz Crain, who often thought of the words on this piece and used them as positive messages throughout. No matter how farcical the drama became, "The Blissful Elixir" helped her abide. The fanciful uses listed on its back were needed as well: "Paregoric – Emetic – Soporific – Cathartic"  are all substances which help with release and surcease. This too shall pass!  If the cat keeps coming back, eventually its nine lives will get used up.