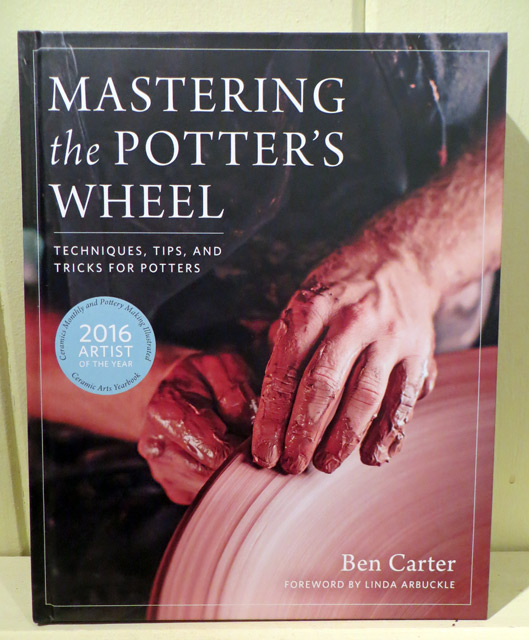 Why would I, a longtime confirmed handbuilder-of-clay, seek out and buy a book dedicated to wheel throwing? Am I switching teams? Not hardly! I have no intention of throwing pots.
So, then, what gives? And why this particular book? I'll explain.
First, a short backstory. As a beginning ceramic student I avidly took every course I could, including several on wheel throwing. I borrowed a friend's wheel and made stuff at home too.
It never really took. Oh, I could DO it alright, but I was never besotted with the spinning "vertical lathe."  It seemed rather odiously involved for the ROI. It was awkward. Nerve-wracking. Too much prep. Too much detritus. Too much mopping up. All it seemed good for was generating round things. Lots of them. Mostly functional. None of this led me to practice beyond assignments. I learned from my work – and altered nearly all of it – but I returned my friend's wheel.
Without a wheel in my way, I can basically open the bag of clay and start in, work at a pace that suits me, stop, wrap, wipe and walk away. Ahhhh. Yet much of the way of being with clay that I learned in wheel-throwing I still use in some way,  so I remain an appreciator. And collector, sometimes of mugs and vases, sometimes of books. So here's my explanation.
The Handbuilder's Left-field Review of Mastering the Potter's Wheel by Ben Carter
 I bought this book and enjoy it because:
I have met its broad-thinking, well-spoken and talented author. (He's a Local for me.) What I sensed in him then comes through on the pages of this warmly-presented book. It's as much of an expressive art as his ceramic work.
Wheel-throwing skill improves with awareness of one's body position. That's not just for learning to throw efficiently, but also for remaining healthy enough to continue. Ben sounds like the voice of experience and right at the beginning of the book (even before Tools and Materials!) he devotes six pages of discussion and exercises to foster an extended career. This awareness and amelioration matters for handbuilders as well. Nearly everything about clay seems to be heavy and repetitive. If you're in it for the long haul, it will catch up with you.
Speaking of good form,  I have found that the best discussions of shape and beauty always seem to emanate from the wheel-throwing arena. (Robin Hopper, Clary Illian.) Potters remain eager to parse the millimeters of perfection. I think that's why I stuck with wheel-throwing as long as I did, because it offered a breath of objectivity and whiff of aiming at an ideal. Does that spout dribble? How does that handle relate to the rest of the teapot? Ben spends time with each thrown component individually as well as exploring how they might best work together. These core concepts matter greatly, even if you alter the daylights out of your work.
There are oodles of process photos, Skill Building boxes, Galleries of nifty examples from other artists, a whole chapter devoted to Altering Pots (!) and an amazing Resources section. I thrive on a range of varied connections and it's clear that Ben does too. He creates a community here and I am glad to feel included even if I don't throw pots.
–Liz Crain, who, after two happy evenings on the couch pawing through this book, now plans to read it cover to cover to see what else will resonate. And, who knows, those wheel classes were over ten years ago. There might be more to express with a potter's wheel now. Handbuilding certainly has delivered more patience and sensitivity of touch. What if throwing pots could extend that?