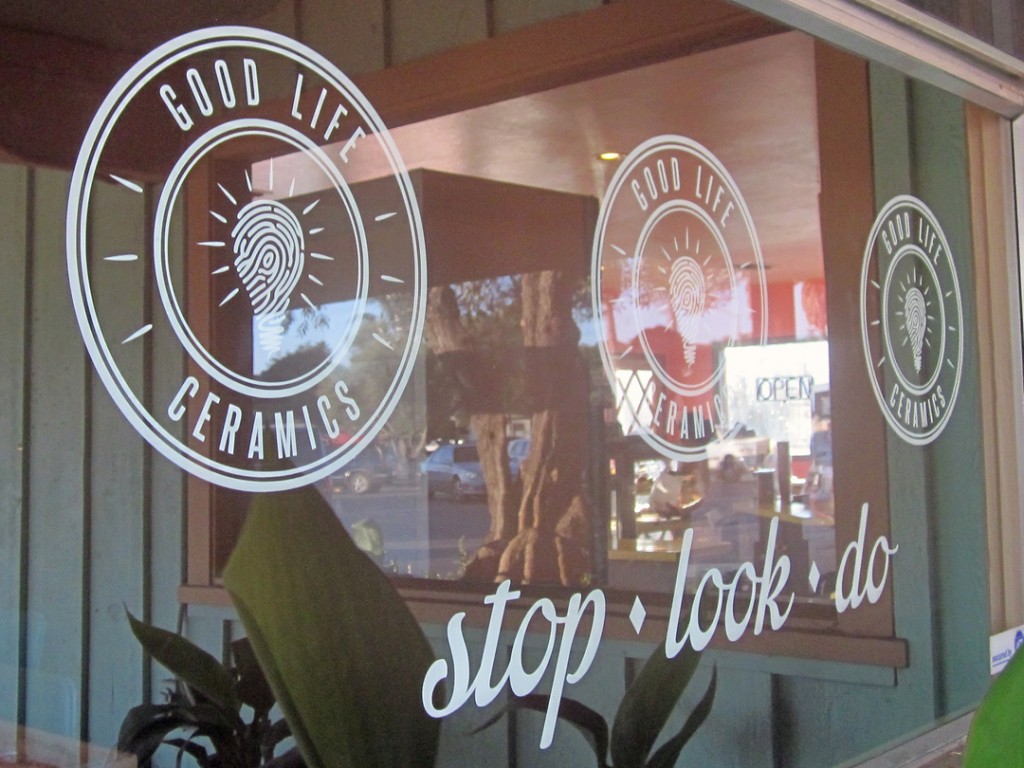 A few years ago, my friend and clay buddy John Albrecht sat me down and described his passionate idea for a new clay place. What he outlined back then was not just ambitious, it was a little outrageous. It would be a place, he said, that reached out to both clay diehards AND clay newbies. It sounded like my kind of theme park: excellent facilities, enticing projects for spontaneous drop-ins, members' studio space and privileges, local clay artists available for consultations, date nights, movies, interesting flex hours. Oh, and a gallery with exhibits and work for sale.
To be honest, the more John revealed of his dream, the more he added each time I encountered him and the more searching questions he asked about kilns and glazes, equipment and tools, the more my curiosity was racing around my incredulity. How could so much be contained in one place? Such a fresh and unique approach! But, really, how?
Well, we are all about to find out because Good Life Ceramics – which is what John has always called this improbable venture –  is about to go live and public.
Here's the main studio area.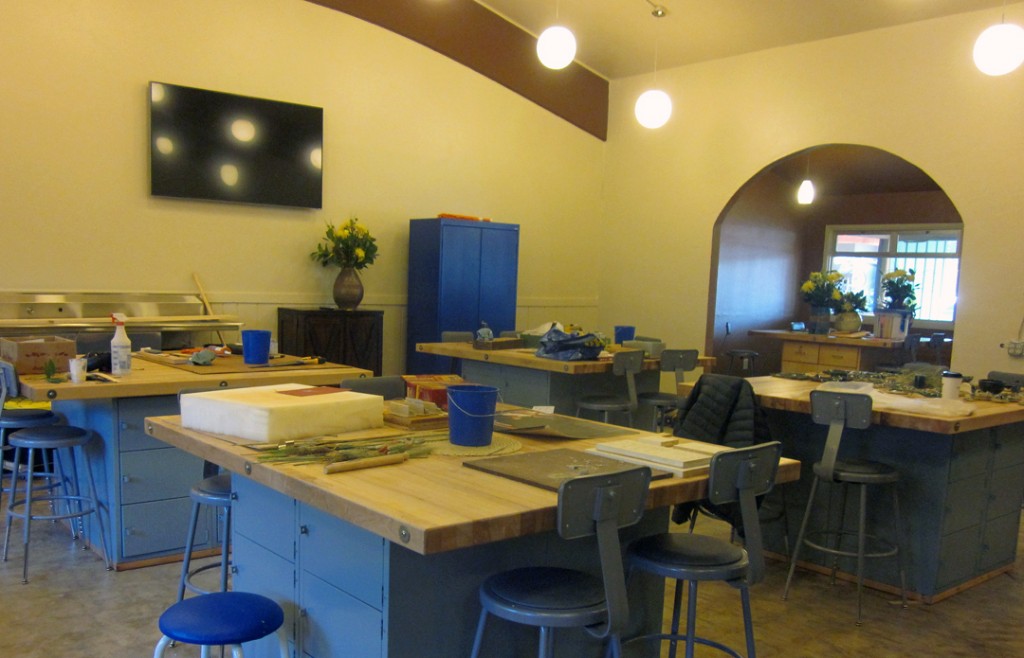 A slice of the wheel area:

The beginnings of the Glaze Book: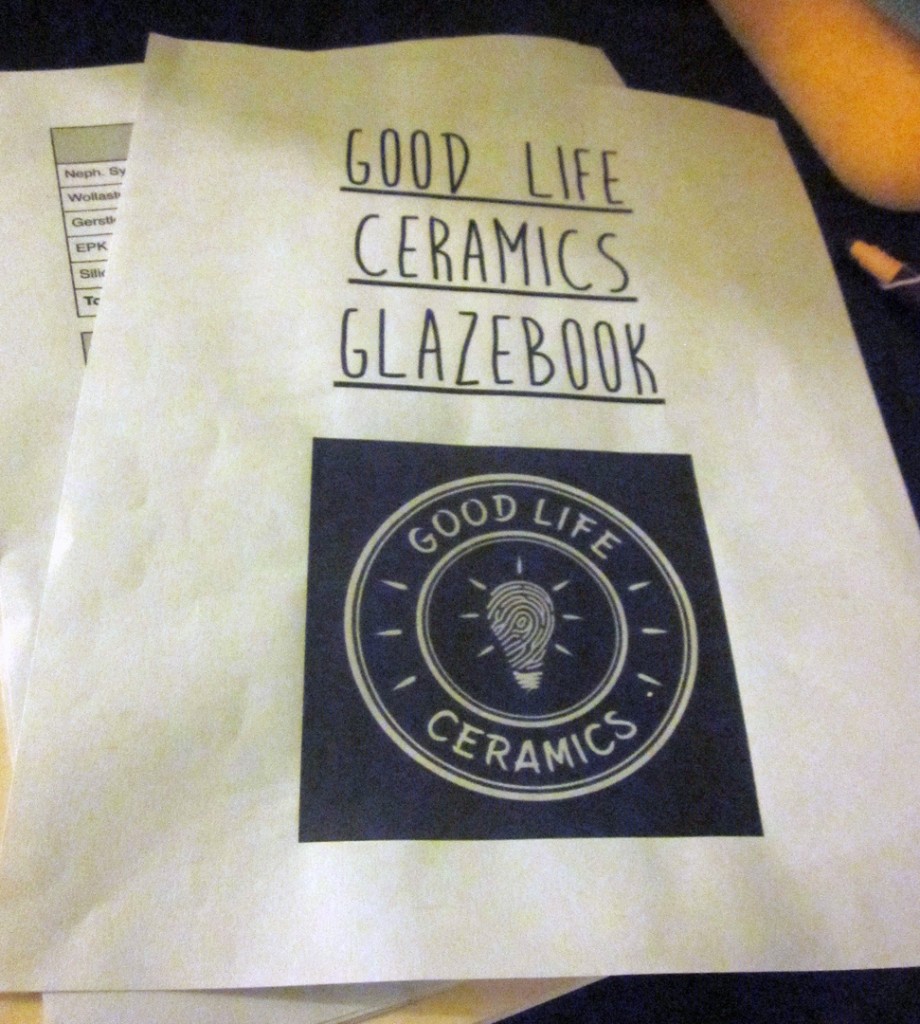 Some work from the first test glaze firing: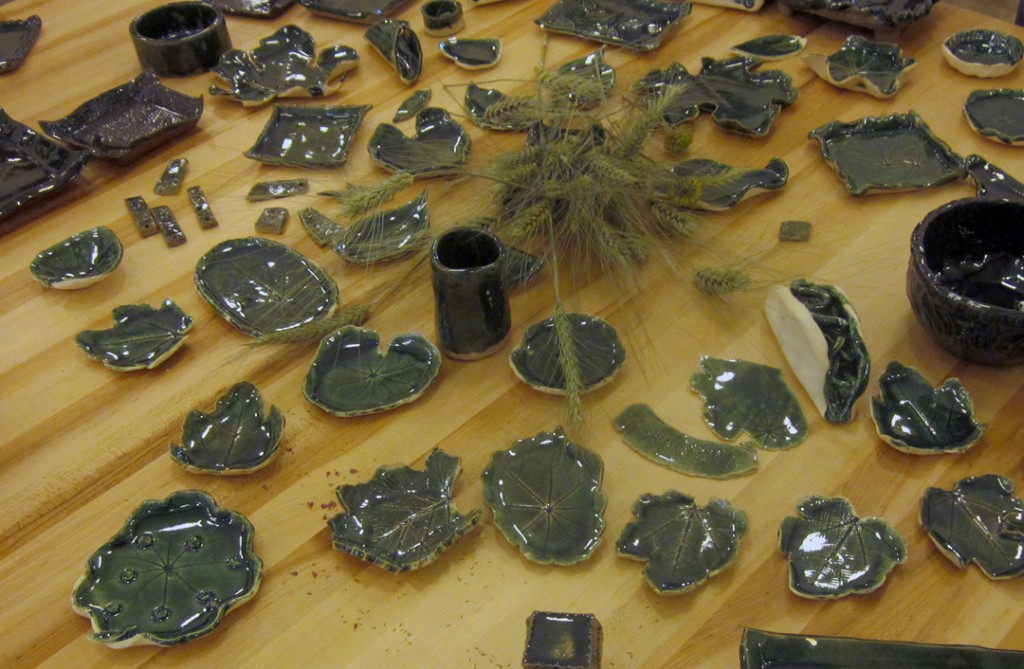 Business Card with Mission Statement on the reverse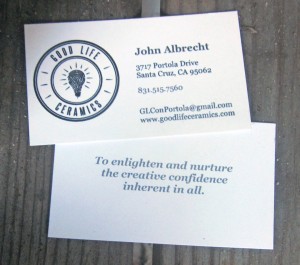 It's that last touching statement on the back of the biz card that is driving this exciting clay amalgamation. And it has been from the original impulse. John freely shares his personal awakening to his own creative confidence with clay and will tell you it was so basic and yet so profound that he felt compelled to orchestrate that opportunity for others. Not just the self-described artists, but to ALL others. That explains the encompassing outreach Good Life Ceramics is poised to deliver in so many energetic ways.
A delightful capper to the whole shebang is the Slip Away Gallery, a developing showcase for invited artists and members. The space honors the late Kathryn McBride, a mentor and muse to both John and me. She helped us each find our creative taproots and witnessed our individual and unique growing confidence. She made clay fun. She would ADORE what John has created for the community.
The name "Slip Away" comes from a work of Kathryn's, a rowboat full of satchels, bags, luggage and backpacks titled "Loaded with Potential."  John copied Kathryn's script and I transferred it and painted it in above the gallery entrance.

To begin with, the Slip Away Gallery will serve as a center honoring Kathryn, displaying what artwork of hers can be loaned, and raising funds for the Cabrillo College Ceramics program and a scholarship in her name. With enough raised, the College will name the Ceramics Studio in her honor as well. Early donations have put this lovely possibility within reach!
Good Life Ceramics is coming and it's loaded with potential! Stop Look Do.
-Liz Crain, who recognizes a beautiful dream, even if she can't quite grok the whole of it at first. It's like when her boys visited the animal shelter without her and fell in love with Roy, who they described as "part Chow and part Golden Retriever." Well, she just had to see that dog for herself, and guess who was gorgeous and came to live at her house for 11 years? Yep. But, back to GLC. Here are the details: 3717 Portola Drive, Santa Cruz, CA 95062, 831-515-7560, GLConPortola@gmail(dot)com and goodlifeceramics(dot)com.