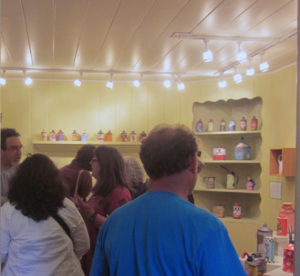 After six years,  I'm stepping away from the Santa Cruz County Open Studios Art Tour for at bit. I won't even apply again until 2015 at the earliest. Good for me!
Like eating peanuts, I made sure I ended on a good one. This year's effort was my best showing ever, in both artwork and presentation. It had the most attendance (over 400 visitors) and satisfying sales numbers in all categories.
I know other local artists who create a on-off Open Studio schedule, some as an every-other-year practice, some sporadically, as other projects and interests allow. Might it work for me?
Once upon a time, being an Open Studios Artist was my Holy Grail. I felt it would mean I had arrived as a professional in every way.
The Dream was challenged by nearly a decade of rejections with the associated ebb and flow of crippling doubt and unreasoned bravado. I now am thankful for those rejections because they forced me to assess and improve. Did I really mean it? My actions said yes, regardless of outcomes. Being accepted at last did not mean I was a professional, though, because in my ever-evolving Dream I already was one. Go figure!
If I had been too concerned with what everyone else was doing and getting, I might not have persevered, The Competition being too overwhelming, the Dream too nebulous. Yeah, I'm not immune to professional comparisons and jealousies: because it's what I want too!  I pay attention to the activities of others, but they absolutely do not direct my efforts. I am neither stymied nor goaded, waylaid nor propelled by them.
If one is too fascinated by the Dream to heed the Competition, there is no competition!
My Dream is taking me new directions with unknown outcomes, as Dreams should. I can't wait to see what arises.
~ Liz Crain, who almost – teasingly – titled this post, "The Hell With It" but that would give the exact wrong impression. It's not about rejections, frustrations or damnations – mine or theirs – but about focus. Not about shoving off, but about creating intelligent space and time.
,