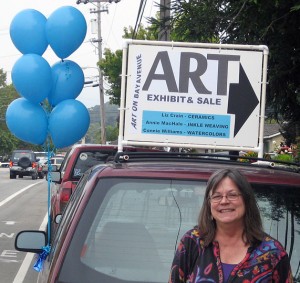 This post wanted to be a list and ONLY a list. It has graciously let me write a short explanatory intro.
This was going to be short little prose jaunt through the highlights of what I do, start to finish, to pull off a live in-person show and sale of my artwork. As with nearly all my posts, I began by jotting down talking points and a sketchy outline of my main ideas. Typically I free write and then edit heavily. I add images and links, read the preview, make a few more tweaks and… publish!
This post didn't want to do that much – it became a terrorist demanding I look straight into the camera and stick to its minimalist script. It begrudgingly let me post an image.
Without further annotations – any one of which could be a separate post –  here it is.
The Decision to Participate and Apply
The Meeting of the Application Specifications
The Waiting
The Acceptance E-Mail or Letter
The Event's Further Instructions
The Planning of the Work to Make
The Making of the Work
The Culling of the Work Made
The Paperwork! Oh, the Paperwork!
The Photographing of the Work
The Inventorying of the Work
The Pricing of the Work
The Display Space and Props
The Purchasing of New Supplies, Signs and Props
The Defining of the Expected Visitors
The Designing and Ordering of the Postcards
The Social Media Promotion Support and Sharing
The Mailing of the Postcards
The Countdown and the Packing
The Portage of Work and Displays
The Arranging for the Artist's Clothes and Comfort
The Care and Feeding of Artist and Her Support Team
The Obtaining of the Swag and the Goodies
The Setting Up of the Display Space
The Interacting with Actual Visitors
The Talk Talk TALK TALKing
The Needed Stamina
The Money-handling
The Wrapping
The Display Freshening
The Pick-up and Re-packing
The Re-Inventorying
The Bookkeeping and the Banking
The Thank-you Note Writing and Posting
The Email Answering
The Mailing List Updating
The Postmortem Assessment
The Pre-Planning for Next Time
–Liz Crain, a hard-working ceramic artist who now understands why she might get tired sometimes.